Vrata 21h, Koncert 21.30h, Upad 35 Kn (Ulaznice rezervirajte na medikainfo@gmail.com)
HE WORLD/INFERNO is coming to your town! They are not fucking around! Full-time-fighting friends to the friendless, the most successful scourge to the oppressors since Willy Sutton, they're riding a wave of delicious alcohol straight into your hearts. Even if they have to buy the drinks themselves, they'll do it. Come see the circus play the dirty rock club!!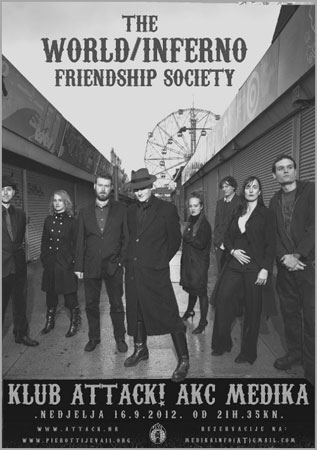 THE WORLD/INFERNO FRIENDSHIP SOCIETY
(NYC, S.A.D.)
http://www.facebook.com/worldinferno
http://www.worldinferno.com/
Postava, čija je jedina konstanta gotovo dvoznamenkast broj članova, jedan je od razloga zbog čega ovaj bend ne možete uhvatiti ni za glavu ni za rep. Izmicanje bilo kakvim uobičajenim glazbenim kvalifikacijama njihov je skoro pa zaštitni znak, a zvukovi ska, funka, soula, gospela, punka, rock'n'rolla i swinga tek su podloga za njihove urnebesne performanse zbog kojih su postali jedan od najtraženijih live actova u New Yorku i okolici, ali i diljem Europe, koju redovito pohode.
The World/Inferno Friendship Society iz Brooklyna je lukavo dobro organiziran kult, banda šaljivdžija, nihilista, gangsterica i anarhista.
Puhači, harmonika, klavir, divlje gitare i čvrsta ritam sekcija, upotpunjeni nabrijanim vokalima i zanimljivom lirikom, stvaraju nevjerojatno zabavnu smjesu koja svoj vrhunac opravdava svirkama uživo.
Idejnog začetnika i centralnu figuru ove sulude pankersko-kabaretske družine utjelovljuje karizmatični Jack Terricloth - ljubitelj crnog vina i opskurnih filmova. Uz njega, od samog početka prisutan je i gitarist Lucky Strano, a kao dugogodišnje 'pridružene' članove moramo spomenuti basisticu Sandru Malak i simpatičnog brku Franza Nicolaya, bivšeg člana grupe The Hold Steady. Broj ljudi koji je kroz godine prodefilirao kroz World Inferno prelazi trideset, a među njima našli su se i poneki članovi bendova kao što su Leftover Crack, The Slackers, Nanuchka i Dexy's Midnight Runners, The Dresden Dolls, Balkan Beat Box. Mnogo je kultnih bendova, no rijetko koji ima status kulta!
promo guy // 13/09/2012