Hesus Attor (Rijeka)
Consecration (Beograd)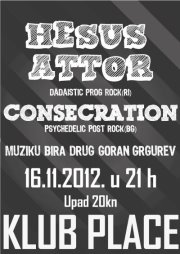 Dva banda sa Geenger Records etikete, Hesus Attor i Consecration nakon par godina opet vam planiraju zasvirati skupa i to : 15.11. u KSETU (Zg), 16.11. u klubu Place (Ri) i 18.11. u klubu Gun (Bg).
Povod za ponovno druženje je najava novih albuma obaju bandova koji ce izaci tokom 2013. godine, a to je i više nego dobra prilika da se na ovim koncertima uvjerite kako ce ti albumi zvucati.
Dakle pripremite svoju glavu za novi zvučni napad isjeckanih i bizarnih riječana Hesus Attora i ugodnu psihodeličnu post rock vožnju beogradskih Consecrationa.
klub place // 12/11/2012