MUZIKA POLUDELIH (Srbija, Hc/Punk)
Nakon 5 godina barabe iz Vrbasa ponovno u Zagrebu!!! Prže hardcore punk od daleke 1997. godine. Iza sebe imaju 6 albuma od kojih su 4 na engleskom a druga 2 na srpskom jeziku. Nedavno su izdali svoj najnoviji album pod imenom Brothers koji promoviraju na ovom mini touru. Najavili hrpu starih i novih stvari tako da dođite i uvjerite se sami!
BAD BLOOD (Čakovec-Zagreb, Thrashcore)
Veterani hrvatske underground scene. Bend je osnovan daleke 1998. godine, a iza sebe već imaju dva dugosvirajuća demo albuma. Nakon ponovog okupljanja, kao i nekoliko line up promjena, Bad Blood lani započinje rad na novom materijalu. Potpisuju ugovor s izdavačkom kućom Miner Recordings iz Švicarske, te sredinom 2013. izlazi "Silence = Death". Novi album sadržava osam pjesama koje su klasičan Bad Blood spoj hardcorea, thrashmetala i groovea, a dečki se posebno ponose što su na pjesmi "Freedumb State Of Mind", kao i na istoimenom spotu, ugostili Gary Meskila, frontmana legendarnog Pro Paina.
Bad Blood čine Branko Nađ - vokal, Bruno Grobelšek - gitara, Nenad Ratajec - bass i Hrvoje Štefanec - bubnjevi.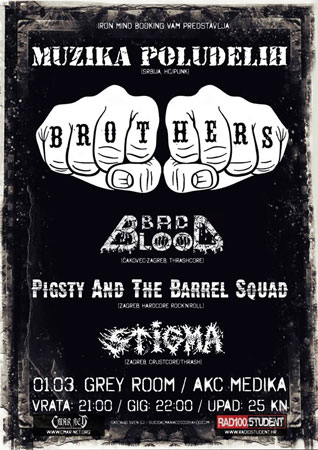 PIGSTY AND THE BARREL SQUAD (Zagreb, Hardcore Rock'N'Roll)
Dobro znani mladići koji sviraju od 2004 godine. Iza sebe imaju svima dobro poznat Demo koji se sastoji od 8 stvari te friško izdani novi album Pirates Of The City Streets koji je odličan! Imali ste ih prilike zadnji put vidjeti na Streets United! Vol.2 u rujnu prošle godine u Velikom Pogonu Jedinstvo u Zagrebu.
STIGMA (Zagreb, Crustcore/Thrash)
Sirova zagrebačka petorka iza sebe ima sedam godina tvrdokorne buke pod snažnim utjecajem ENT-a i Wolfpack-a. Do sad su izbacili dva dema ('Povratak bombardera' 2007.; 'Apokalipsa' 2009.) i album 'Nova doza mržnje' 2011. Imaju i ponešto novog materijala i nijednu dobru namjeru.
Prije i poslije giga Hc/Punk slušaona by Dj Kamensko a za kraj već tradicionalne
karaoke by Grey Room
GREY ROOM/AKC MEDIKA
VRATA: 21:00
GIG: 22:00
UPAD: 25 KN
promo guy // 21/02/2014