Ove godine u Ketteringu, Boughton Estateu, u Velikoj Britaniji, održat će se po prvi put jedan od najvećih svjetskih alternativnih festival, ako već ne i najveći, kako tvrde organizatori istog, a u prilog tome govori preko 180 izvođača na 6 pozornica.
I dok mnogi festivali zbog financijskih poteškoća bili prisiljeni otkazati gostoprimstvo ljubiteljima alternativne glazbe, Alt-Fest u svom prvom izdanju i novim pristupom organizacije festivala želi postati i više nego obična točka na festivalskoj karti te mjesto nekog masovnog okupljanja.
Zahvaljujući dobro osmišljenoj kampanji koja se temeljila na prikupljanju inicijalnih sredstava od strane fanova koji prihvatili ideju organiziranja ovakvog festivala, organizatori su od početka kampanje prošle godine dosad od njih prikupili oko 60.000 funti, skoro dvostruko više koliko je zapravo bilo očekivano uopće. Naravno da organizacija cijelog festivala daleko premašuje ovaj iznos, ali neke financijske konstrukcije fanovima ionako nisu bitne ukoliko se festival održi.
Ono što je fanovima bitno je činjenica da su im tom kampanjom organizatori ponudili mogućnost kreiranja sadržaja festivala, od izbora bendova i tematskih pozornica, setliste nekih izvođača, izbora te cijena hrane i pića, udaljenosti pozornica do kampa, broja toaleta i tuševa, pa sve do nekih detalja za one najizbirljivije, poput kampiranja u predjelu bez buke, mogućnosti posjeta festivala s djecom u pratnji te smještaja s istom, popratnog sadržaja za odrasle, ali i za djecu… Zapravo mogućnost da poprave sve "dječje bolesti" koje prate ovakve festivale i čine ih potrošačkim ovcama.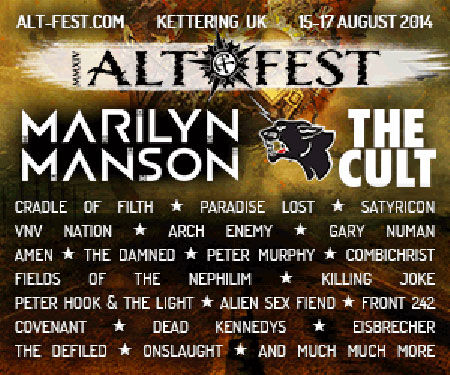 No ono što je posjetiteljima ipak najvažnije je sama postava izvođača koji će nastupiti na samom festivalu, a razvrstani na sljedećim pozornicama te po danima:
Petak, 15.08.
MAIN STAGE: VNV Nation, Fields Of The Nephilim, Killing Joke, Dead Kennedys, Dope Stars Inc., Gothminister, Jayce Lewis, Methedreame
METAL STAGE: Paradise Lost, Onslaught, My Ruin, Mono Inc, Dead Harts, Scerlett Riot, Concrete Lung
INDUSTRIAL STAGE: Front 242, Mesh, Faderhead, Agonoize , Rotersand, Aesthetic Perfection, ZeroMancer, Uberbyte, Tenek, V2A, William Control, K-Bereit
GOTH STAGE: Peter Murphy, Marionettes, The Eden House, The Last Cry, 13 Candles
STEAMPUNK STAGE: BB Black Dog, Birthrite, The Seas of Mirth, Skorbut, Daniel Malheur, Frenchy and The Punk, The Mysterious Freakshow
S.O.P.H.I.E. STAGE: Senser, Global Citizen, K-Nitrate, Null White,i!,, J£sus Loves Amerika, Concrete Lung, Stereo Juggernaut, Vivid Nation, Spawn of Psychosis, The Cureheads, Petrol Bastard
Subota, 16.08.
MAIN STAGE: Marilyn Manson, Amen, Gary Numan, Truckfighters, Black Futures, Steak, Jindivik
METAL STAGE: Satyricon, Savage Messiah, Krokodil, The One Hundred
INDUSTRIAL STAGE: Suicide Commando, Nachtmahr, Soman, SAM, XP8, Alec Empire, Eisenfunk, Alien Vampires, Angelspit, Deviant UK, System FX
GOTH STAGE: Alien Sex Fiend, Clan of Xymox, The March Violets, Pretentious Moi, NFD, Christine Plays Viola, Cold in Berlin
STEAMPUNK STAGE: Crimson Clocks, Gladstone, Montague Jacques Fromage III, Steampunk Funk Bizarre, The Shanklin Freakshow, Jezebel Steele, The Dark Design
S.O.P.H.I.E. STAGE: Fearless Vampire Killers, Beholder, Skreamer, The Self Titled, Collapse, Bull-Riff Stampede, Kremated, Wretched Soul, Blacken The Name, Perpetual, Enemo-J, November-7, Maxdymz
Nedjelja, 17.08.
MAIN STAGE: The Cult, Arch Enemy, Eisbrecher, Peter Hook & The Light, BlutEngel, New Device, Fuckshovel
METAL STAGE: Cradle of Filth, The Howling, Finntroll, Breed 77, Malefice, Palm Reader, Lovelorn Dolls, Primitai
INDUSTRIAL STAGE: Covenant, Leaether Strip, Unter Null, Krystal System, Inertia
Global Citizen, Digicore, Pretty Addicted, Alter Red
GOTH STAGE: The Damned, Diary of Dreams, Skeletal Family, The Beauty of Gemina, Zeitgiest Zero, Attrition
STEAMPUNK STAGE: Metropolis, Professor Elemental, Whiskey Bob Shaker, Aeronautica, DH Lawrence & The Vaudeville Skiffle Show, Miss Von Trapp
S.O.P.H.I.E. STAGE: Godsized, Seven Deadly, Black Acid Souls, Soldierfield, Stormbringer, Die So Fluid, Generation Graveyard, Spit Like This, Spirtyus, Sinnergod, Crashgate, 44 Fires, Paresis
Sama lokacija festivala udaljena je od Londona sat i pol vožnje automobilom ili 55 minuta vlakom.
Cijena ulaznica:
Vikend ulaznica: 153,45 EUR
Jednodnevna: 69,96 EUR
+ kamping:
3 dana: 24,55 EUR
5 dana: 36,82 EUR
Miroslav Sušnik
terapija // 04/06/2014