Od 6. do 9. kolovoza, tvrđava Josipa II., u češkom gradu Jaromeru, bit će odredište mnogih metalaca iz svih krajeva svijeta, gdje će se, i ove godine, tradicionalno, održati, devetnaesti u nizu, Brutal Assault 2014., te tako publici, još jednom, predstaviti najbolje bendove iz svijeta metalnog zvuka.
Prvo brutalno izdanje održano je 1995. godine, a dugi niz godina nakon toga bio je samo još jedan mali festival na kojem su nastupali lokalni bendovi iz Češke i Slovačke. Međutim, kako je popularnost festivala rasla, krajem 2000-ih prerasta u najveći ekstremni srednjoeuropski festival.
Smjestivši se u Josipovoj tvrđavi, sagrađenoj krajem osamnaestog stoljeća za vrijeme vladavine cara Svetog rimskog carstva, svojom zanimljivom povijesnom pričom i specifičnim izgledom pridonosi ugodnijoj atmosferi festivala. Ta jedinstvena vojna utvrda s više od četrdeset pet kilometara podzemnih tunela i mnogobrojnim labirintima, udaljena je oko sto trideset kilometara istočno od češkog glavnog grada.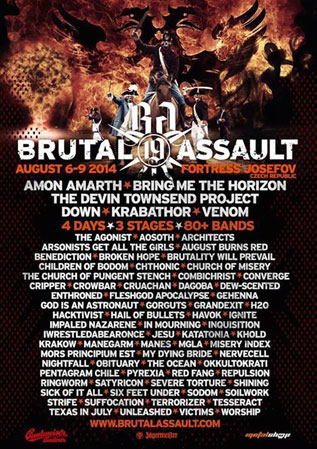 Kao i svake godine do sada, tako i ove, tvrđava Josipa II., spremno će otvoriti svoja vrata jednoj četvrtini američkih velikana poznatijoj kao Slayer, ništa manje vrijednom Venomu i Sodomu, te ostaloj glazbenoj eliti poput Downa i Crowbara, s čijih se koncerta još nisu slegli dojmovi. Također, Josipovom tvrđavom harat će i švedski vikinzi Amon Amarth kao i njihovi smrtno melodični sunarodnjaci In Mourning i Soilwork, kojima će u pomoć priskočiti žanrovsko-teritorijski susjedi Children of Bodom, Mors Principium Est, te blekeri Impaled Nazarene. Tom veličanstvenom crnom redu pridružit će norvežani Satyricon, Gehenna, Shining i Khold. Headlinersku listu krase i Bing Me The Horizon, te The Devin Townsend Project, a uz bok im stoje Converge, Katatonia i My Dying Bride, te njihova žanrovska braća Nightfall, kao i post rockeri God Is An Astronaut, koje smo, također, imali prilike vidjeti ove godine u Zagrebu. Svoje umijeće pokazat će i naši death metal stručnjaci Infernal Tenebra, a na popisu izvođača se nalaze još i neizostavni Suffocation, Obituary, Fleshgod Apocalypse, Unleashed, Six Feet Under, Benediction i Combichrist, te preostali, abecednim redom: Aosoth, Architects, Arsonists Get All The Girls, August Burns Red, Blindead, Broken Hope, Brutality Will Prevail, Carnival In Coal, Chthonic, Church Of Misery, Cripper, Cruachan, Dew-Scented, Dodecahedron, Enthroned, Epicardiectomy, Exivious, Feastem, Fleshless, Flotsam & Jetsam, Gorguts, Grandexit, H2O, Hacktivist, Hail Of Bullets, Hammercult, Havok, Heaving Earth, Heiden, High On Fire, Ignite, Inquisition, Insania, Isacaarum, Iwrestledabearonce, Jesu, Keep On Rotting, Krabathor, Krakow, Liveevil, Manegarm, Manes, Martyrdod, Mgla, Misery Index, Modern Day Babylon, Nervecell, Okkultokrati, Onslaught, Panychida, Pentagram Chile, Prvni Hore, Pyrexia, Radiolokator, Rats Get Fat, Red Fang, Repulsion, Ringworm, Schirenc Plays Pungent Stench, Severe, Torture, Siberian Meat Grinder, Sick Of It All, Six Degrees Of Separation, Skeletonwitch, Spasm, Strife, Suburban Terrorist, Terrorizer, Tesseract, Texas In July, The Agonist, The Ocean i Worship.
Kapacitet festivala ograničen je na petnaest tisuća osoba, a budući da broj posjetitelja svake godine raste,
ovdje
se pobrinite da svoju kartu ulovite na vrijeme.
veda // 05/07/2014