PONEDJELJAK 14.12. • VRATA 21:00 • POČETAK 21:30 • UPAD 35 KN
Klub Močvara, Doomtown Records i Beat City predstavljaju: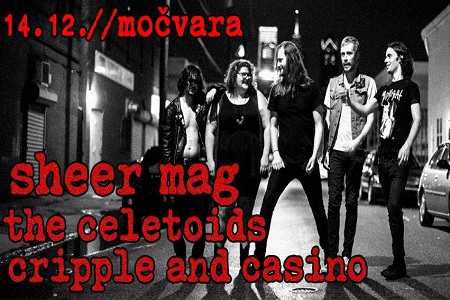 Sheer Mag (Philadelphia, SAD)
Kada vrlo mlad band s ulica Philadelphije, jednog od najnasilnijih američkih gradova, usred globalne prezasićenosti nosačima zvuka uspije pokrenuti lavinu hvalospjeva i obožavanja nakon samo dva izdana singla, jasno je da gdje ima dima ima i vatre. A Sheer Mag definitivno nisu pičkin dim, još su manje Vatra, već izrazito uvjerljiv i posvećen band koji spaja deep-soul interpretaciju punk dive Christine Halladay s tradicijom himničnog riff-rock songwritinga 70-ih (Thin Lizzy, Suzy Quatro, itd), a sve unutar okvira suvremene DIY Lo-Fi punk estetike. Preprljavi za običan, lepršavi rock'n'roll eskapizam, Sheer Mag u cijelu priču ubacuju i zrno revolucije, te s ruševina posrnule velesile pozivaju na klasnu borbu, dižući šake u zrak poput njihovog sugrađana Rockyja Balboe!
Stream: https://sheermag.bandcamp.com/
The Celetoids (Zagreb)
The Celetoids su relativno nov bend sastavljen od članova Modern Delusion, Black Gust i Chresus Jist. Bend svira neurotičan, sirov i ogoljen miks KBD punka i garažnog rocka, a karakteriziraju ih kratki i eksplozivni setovi. Ovim putem Celetoidsi će nam predstaviti pjesme s nadolazećeg debi mini albuma koji početkom sljedeće godine izlazi za domaći Doomtown Records. Stream: https://theceletoids.bandcamp.com/
Cripple and Casino (Zagreb)
Lokalni noise rock heroji, miljenici forum.hr-a, te štićenici etikete Moonlee Records, nam dolaze ponovno u Močvaru nakon premijernog nastupa u novoj postavi. Možda ste mislili da su se i raspali, ali zapravo su s novim gitaristom radili na isključivo novim stvarima. Ukoliko ste fulali njihov povratnički nastup u lipnju, očekujte potpuno novi set.
Stream: https://crippleandcasino.bandcamp.com/
UŠESLUH DJ's (Zagreb)
Ušesluh je radio emisija koja ide utorkom od 18:15 do 20:00 na Radio Studentu. Ovaj put Lovro i David zamjenjuju eter Radio Studenta mix pultom Kluba Močvare i vrte prigodne numere prije, između i nakon svirki bendova.
Više o Ušesluhu: www.radiostudent.hr/usesluh
promo guy // 27/11/2015