SUBOTA 05.12. • VRATA 21:00 • UPAD 25 KN
VALHALLA - HEAVY METAL PARTY by DJ Lawless & DJ Kneža - JUBILARNA 7. OBLJETNICA!
ART KNOCKOUT (Judas Priest tribute band - Rijeka)
TIME DECAY (Heavy Metal - Zagreb)
CODE OF NELSON's FOLLY (Folk Metal - Marija Bistrica)
ART KNOCKOUT
(Judas Priest tribute band - Rijeka)
Uska koža i metal, outfit identičan onome Judas Priesta te nevjerojatan vokal Terle kojega bi, sigurni smo, i Rob Halford pohvalio. Jednom rječju, vjerne replike legendarnog heavy metal benda dolaze odsvirati vrhunski Judas Priest koncert nabijen hitovima. Koncert na kojem se svaki ljubitelj heavy metal glazbe zasigurno može zabaviti. Ova petorka mnogim je koncertima oduševila publiku diljem Hrvatske, a sada ponovno, čak 4. put na Valhalli, dolaze u Zagreb odsvirati još jedan koncert za pamćenje!
TIME DECAY
(Heavy Metal - Zagreb)
Time Decay nastao je početkom 2014. godine u Zagrebu kao nasljednik benda Moon Flash (2005-2014), a na Valhalli će promovirati svoj album prvijenac! Vrlo brzo nakon osnutka bend pohodi gotovo sve zagrebačke rock klubove te su postali prvi heavy metal bend u finalu HRDemo Kluba, a priznanje za kvalitetan rad došlo je i od Metalium bloga, koji je album Time Decay-a proglasio demo albumom mjeseca (ožujak, 2015). Sve fanove željne heavy metala pozivaju u Močvaru na Valhallu!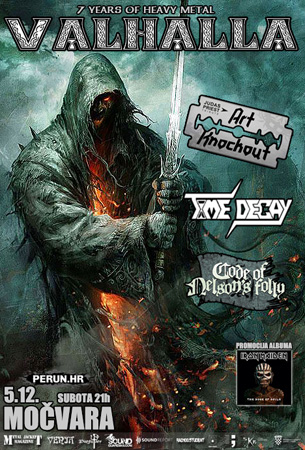 CODE OF NELSON'S FOLLY
(Folk Metal, Marija Bistrica)
Code of Nelson's folly su mladi i perspektivni pirate/folk/drinking metal bend iz Marije Bistrice, a na Valhalli će predstaviti svoj drugi EP - Just One Drink! Bend je nastao krajem 2012. godine s ciljem dobre zajebancije i stvaranja još bolje muzike, pa su tako nakon nekoliko manjih koncerata po Zagorju odlučili snimiti autorski materijal. Godine 2014. objavili su svoj prvi EP - Beergasm. Ako volite Alestorm, Korpiklaani, Turisas ili Finntroll i ostale drinking metal bendove, dođite na Valhallu i doživite njihovu viziju gusarskog folk metala!
Za sve ljude žedne teškog i melodičnog zvuka pripremamo metal mix na kojem ćete moći čuti junake heavy, power i thrash metala kao što su DIO, Judas Priest, Helloween, Blind Guardian, Iron Maiden, Manowar, Metallica, Exodus, Kreator, Saxon, Black Sabbath, Accept, Hammerfall, Stratovarius, Lost Horizon, Edguy, Running Wild, Megadeth, Iced Earth, Rhapsody Of Fire, Hell, Sabaton, Powerwolf, Wisdom, Slayer, Grave Digger, DragonForce, Gamma Ray, Avantasia, Alestorm, Sonata Arctica, Sodom, Anthrax, Gloryhammer, Majesty, Korpiklaani, Grim Reaper, Primal Fear, Kamelot, Rage, Rainbow, W.A.S.P. te ostale dobre zvukove brzih bubnjeva, melodičnih solaža i moćnih vokala.
U sklopu Valhalle održat će se promocija novog, 16. studijskog albuma britanskih heavy metal legendi Iron Maiden - The Book Of Souls, kojega ćete u cijelosti moći čuti.
Vidimo se na Valhalli!
promo girl // 29/11/2015