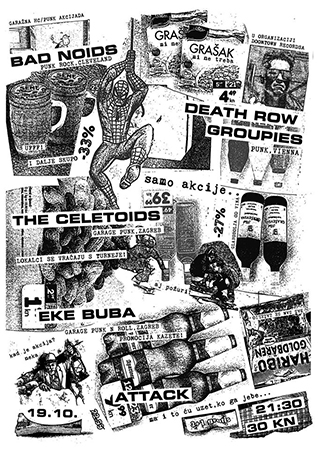 [ 19.10.2016. | SRIJEDA | START: 21:30 (sharp!) | UPAD: 30 KN ]
BAD NOIDS (Cleveland)
Bad Noids su četiri spaljenovića iz Clevelanda, grada na američkom Midwestu koji je kroz svoju bogatu new wave/punk rock/hardcore povijest iznjedrio asove poput Devo, Dead Boys, Pagans, Pere Ubu, Integrity, H100s, 9 Shocks Terror i mnoge druge jake grupe kojih se trenutno ne možemo sjetiti. Au, da, i 00s garažne punk manijake Homostupids! No, vratimo se mi ovoj skupini mladića.
Okupili su se prije šest godina, do dana današnjeg izbacili nekoliko tejpova, singlica i LP za njujorški Katorga records, te proputovali Ameriku par puta i Europu jedanput prije dvije godine. Kako im je interes za istraživanjem Starog kontinenta bio velik, a jedna turneja nedovoljna da prođu sve zadimljene mračne rupe koje nudi, odlučili su se na još jednu koja ovog puta uključuje i Zagreb!
Muzički pletu mrežu između šlampavog, bezobrazno sirovog garažnog punka i ranog američkog hardcorea, a sa sobom nam donose novi singl friško izbačen za Feel It records. Štovatelji grde muzike, ukažite se!
http://katorgaworks.bandcamp.com/album/everything-from-soup-to-dessert-lp
DEATH ROW GROUPIES (Vienna)
Bečki trio koji ne postoji dugo, no dovoljno da je već zasvirao u Attacku na ovogodišnji Uskrs kad je otprašio dvadesetak minuta energičnog bućkuriša koji je malo koga prisutnog ostavio ravnodušnim.
Uživo su skloni improvizaciji, polovicu seta sviraju bez bassa jer su im vokal, bubanj i gitara koja izlazi kroz 10 vatno pojačalce čist dovoljni, a na momente zazvuče kao kakav zaboravljeni bend s jednim singlom izdanim za Crass records.
Dan nakon uskršnjeg giga snimili su par stvari uživo u režiji zagrebačkog XXX Sessionsa i izdali ih na tejpu naziva The Drug Tito Tapes. Poslušajte ih!
http://deathrowgroupies.bandcamp.com/releases
EKE BUBA (ZG)
Ovo im je povratnički gig s dvotjedne turneje s The Celetoids na kojem promoviraju Rat Bite kazetu izdanu za Doomtown records. Dopalite i proslavite s nama!
http://ekebuba.bandcamp.com/
THE CELETOIDS (ZG)
"This is fucking great! I don't know why, but the first song kind of reminds me of early Nirvana. It's weird, I keep hearing the Dead Kennedys mixed with just about every single punk band to come out since 1985. Then again, I'm fucked up, what the fuck do I know?"
.
" I'm seeing a bright future for these Croatian rockers, and I sincerely hope that their rumored 7" manages to come to fruition, because I could definitely do with some more Celetoids material in my life."
http://doomtownrecords.bandcamp.com/album/pupal-stage-cs
promo guy // 11/10/2016