ELVIS JACKSON
(Slovenija)
Elvis Jackson, jedan od najboljih regionalnih ska-punk-rock-reggae-metal bendova, nakon duge 4 godine vraća se u Zagreb. Ovi veseli momci predstavit će vam presjek svojih najvećih hitova sa pet izuzetno uspješnih albuma ("Move Your Feet It's One O'clock", "Go Home and Practice", "Summer Edition", "Against the Gravity" i "Radio Unfriendly"). Snimili su desetak videospotova, bili su prisutni na mnogim stranim kompilacijama, održali su nekoliko turneja i svirali su na najvećim europskim festivalima, kao što su Sziget fest, Exit festival, INmusic festival, Dunauinselfest, Burgast fest, Rock For People, Rototom Sunsplash, Beerfestival, Azfest, Serengeti, Devilside...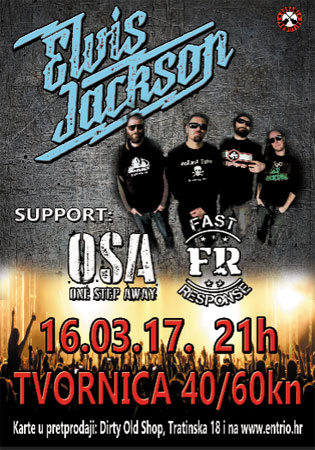 Kruže priče da su njihovi nastupi nezaboravni i da nikoga ne ostavljaju ravnodušnim.
Nastupi na kojima se surfa na luftiću, na kojima lete role wc papira…
Dođite i provjerite zašto! :)
ONE STEP AWAY
(Zagorjevina)
OSA po treći put u Tvornici predstavlja svoj drugi album "Ni Grama Srama".
Svima je sve jasno, brzi punk rock, vino, kotlovina, Koprivnica, Kuhar ... :)
Provjereno dobro, kažu 3.sreća, pa dođite i provjerite kakav spektakl momci iz Zagorjevine spremaju ovaj put!
FAST RESPONSE
(Zagreb)
3 sexy dudes and a drummer, domaće snage sa engleskom lirikom, nakon dužeg vremena opet u Zagrebu. Ovaj put sa novim materijalom i novim basistom (Rudi - FrAkTuRa MoZgA) koji najavljuje novi, 3. album benda! Jači, veći i brži!
Ulaznice su 40 kuna u pretprodaji u Dirty Old Shopu (Tratinska 18) i na
Entrio.hr
. Na dan koncerta cijena ulaznice će biti 60 kuna.
promo girl // 15/02/2017