Najveći i najdugovječniji hrvatski alter party, Twilight party, se nakon višegodišnje pauze vraća na "mjesto zločina", u zagrebački kultni alter klub Močvara, gdje je godinama žario i palio okupljajući mračnjake i ostale čudake, prezentirajući dark, goth, industrial i inu scenu s mnogim koncertima, performansima i slušaonicama.
Prvi povratnički Twilight party će se održati u subotu 20. svibnja i to u sklopu proslave 18. rođendana Močvare. Večer pod nazivom "Joy Division night - in memoriam Ian Curtis" će biti posvećena jednom od velikana alter rock scene, Ianu Curtisu, frontmenu legendarnih Joy Division, i to povodom 37. godišnjice njegove smrti. Joy Division su jedna od najvećih i najutjecajnijih alter rock grupa svih vremena, a Ian Curtis je bio glavna okosnica grupe zahvaljujući svojim mračnim, poetskim tekstovima i originalnoj vokalnoj interpretaciji.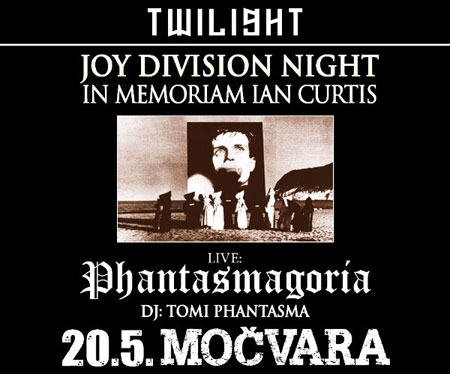 Uz presjek glazbenog opusa Joy Division, koji će ovoga puta biti ispremiješan s obradama pjesama drugih autora, poput Swans, Moby, Kismet, Killers, Therapy, Peter Murphy, Nine Inch Nails,.... će poznati zagrebački mračnjaci Phantasmagoria, također nakon dugog izbivanja s pozornice Močvare, odsvirati koncert u počast Ian Curtisu. Nakon koncerta slijedi tipičan Twilight mix gdje će Tomi Phantasma i Schultz vrtiti sve mračne hitove od kasnih sedamdesetih do danas, pa ćemo tako moći plesat uz Bauhaus, The Cure, Siouxsie & The Banshees, Virgin Prunes, Christian Death, Killing Joke, Mizar, The Cult, The Sisters Of Mercy, Red Lorry Yellow Lorry, Swans, Fields Of The Nephilim, Laibach, DAF, Nitzer Ebb, Borghesia, Die Krupps, Roseta Stone, Clan Of Xymox, Diva Destruction, Cassandra Complex, Mortiis, Paradise Lost, Heroes Del Silencio, Covenant, Placebo, EKV, Jesus & The Mary Chain, Nick Cave, Editors, Interpol, Nine Inch Nails, Ministry, Marylin Manson, London After Midnight, White Lies, Cradle Of Filth, Moonspell, Tiamat, Rammstein, Dead Kennedys, Misfits,.....
Vrata Močvare se otvaraju u 21 sat, a cijena ulaznice će iznositi 20 kn. Dobrodošli!
promo girl // 10/05/2017