Adriatic Coasting ove srijede u Kaptol Boutique Cinema!
Sjajna glazba i craft pivo u jedinstvenom kino baru!
Kaptol Boutique Cinema, Adriatic Coasting i The Garden Brewery ove srijede 14. lipnja režiraju afterwork večernji party od 19 do 24 sata.
Adriatic Coasting duo, Nick & Pepi, donosi zvukove mora i ljetnih festivala u Kaptol Boutique Cinema. Pokretači su radijske emisije na Yammat FM-u koja svakog petka i nedjelje u eteru osvježava um i tijelo biranom glazbom iz svih krajeva svijeta, a emisiju su pokrenuli vođeni mišlju "što slušati" kad se vozite od kontintenta prema moru.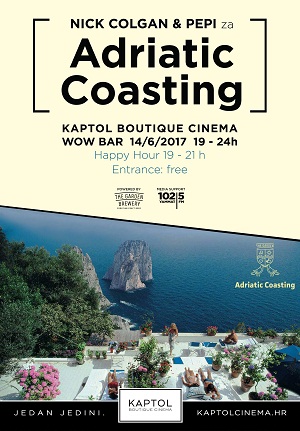 Za one koji će prvi put stupiti u kontakt s Adriatic Coastingom, ovako se sami opisuju "gentle strings, songs about love & drama, psyched out grooves for your voyage to the coastline". Očekujte zvuke kao što su Eddie Lovette, Mousoulou, Mr Fit It, Peacock, Ride Me High i mnoštvo glazbenih rariteta za opuštanje.
Uz sjajnu glazbu ide i sjajno pivo za koje se brine The Garden Brewery s cijelim rasponom craft piva. Happy hour traje od 19 do 21 sat.
Ulaz je slobodan.
promo girl // 12/06/2017