VINTAGE INDUSTRIAL PREDSTAVLJA:
WICKED GARDEN: CHRIS IAN & HRVOJE BAUDOIN (GRUNGE NIGHT SPECIAL)
SUBOTA 2.9.2017. / ULAZ: FREE / LJETNI VRT (SAVSKA 160)
FB EVENT:
https://www.facebook.com/events/1923904721183418/
Subota, 2. rujna rezervirana je za istinske granđere, izgubljene duše i one koji vole glazbu izgubljenih duša. Osim što će iznjedrit ka slušnim aparatima neke autorske pjesme obzirom da djeluju kao osovina benda Malady Lane, za vas će odsvirati neke od najljepših pjesama iz ere grungea i altera, poput: Alice in Chains, Nirvana, Soundgarden, Pearl Jam, Incubus...
...
Little boy made a mistake, hey
Pink cloud has now turned to gray, oh
All that I want is to play, hey
Get on your knees, time to pray, boy
...
VIDEO:
https://www.youtube.com/watch?v=jVQmt9HX3a4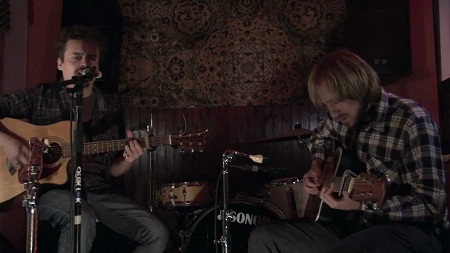 CHRIS IAN & HRVOJE BAUDOIN upoznali su se igrom slučaja u Zagrebu u Bogovićevoj, na mjestu gdje Chris polovicu svog života provodi kao ulični svirač. Dečki su odmah kliknuli, počeli se družiti, te djelovati kao akustični duo po zagrebačkim klubovima.
Nakon prve autorske svirke u Booksi na Škrabici pridužuju im se braća Jambrošić (Muscle Tribe of Danger and Excellence, Deafness by Noise, Straight Outta Fridge) kao ritam sekcija te osnivaju "ful bend" Malady Lane, koji je danas dio sve popularnijeg zagrebačkrog kolektiva House of Pablo.
Obojica cu članovi jos dva benda kolektiva. Chris kao vokal Killed a Fox-a, koji su krajem 2013. izdali svoj drugi album "Spring of Sloth and Haze", Hrvoje kao gitarist Straight Outta Fridgea i Malady Lanea.
promo guy // 31/08/2017