Vesela kornjača predstavlja:
Haiku Garden, Seven Mouldy Figs i Disco Occulto
19.10. Retro(Savska cesta 180), Upad free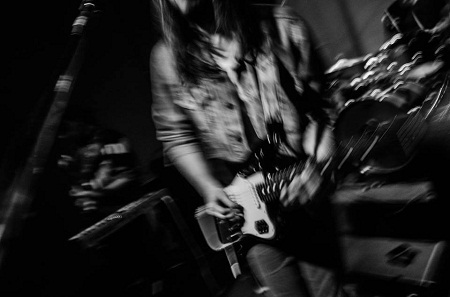 Za ljubitelje shoegazea, dream popa, alter rocka i post-rocka Vesela Kornjača vam predstavlja slovenski bend Haiku Garden. Kao predgrupe nastupit će dva zagrebačka benda, Seven Mouldy Figs i Disco Occulto.
https://www.facebook.com/events/742747702579476/permalink/742756392578607/
Haiku Garden (Ljubljana, SLO)
https://youtu.be/j2UkDyPDFls
https://kaparecords.bandcamp.com/album/waver
Nećemo lagati kada kažemo da je Haiku Garden najperspektivniji mladi bend u Sloveniji. Nećemo lagati niti ako kažemo da su jedan od najperspektivnijih mladih bendova u regiji, pa čak i u Europi. Mladi su ali i iskusni. Sviraju mješinu shoegazea, dreampopa i neopsihodelije. Iza sebe imaju EP Waver u izdanju Kapa Records-a, te odsviranih brdo koncerata i par turneja. Treba napomenuti i kako su nedavno zasvirali sa Jesus and Mary Chain, a to ne može svatko. Na nastupima koriste razne projekcije koje upotpunjuju doživljaj. Na ovoj turneji će posjetiti i Zagreb, a vi posjetite Retro. Dopustite da vas ponesu milozvučne melodije i profinjena buka, uplovite s nama u sigurnu šugejz luku i prepustite se sanjivom popu i novoj psihodeliji na slovenski način.
Seven Mouldy Figs (ZG/SK/Samobor)
https://sevenmouldyfigs.bandcamp.com/
Kao predgrupa Haiku Gardenu odabrali smo trio Seven Moudly Figs. To ne treba čuditi jer su si cure frendice s dečkima. Sviraju mješavinu garaža, bluesa i starog alter rocka s natruhama psihodelije. Postoje od 2014. godine i iza sebe imaju jedan službeni album imena Labyrinth koji se može poslušati na njihovom bandcampu. Cure su vrlo aktivne te su se nedavno vratile s turneje po Njemačkoj i Švicarskoj. Nakon ogromnog uspjeha vani ipak su se zaželile i domaće publike. U zadnjih godinu dana samo su jednom svirale u Zagrebu. Nemojte ih slučajno propustiti jer tko zna kada će opet biti prilike pogledati ih uživo.
Disco Occulto (Zagreb)
https://discoocculto.bandcamp.com/releases
Disco Occulto je bend skupljen inicijativom svemira s idejom da sviraju headbanging drone drobljenje. S vremenom su ukomponirali disco elemente u njihovu rock pozadinu kako bi ostvarili zanimljiv koncept povezivanja naizgled oprečnih stilova. Sastoje se od atoma i molekula, koje se ponekad spoje u jedinke koje tvore Darjana, Vjerana, Lea i Matka. Inspirirani su pogledom u prošlost kroz moderne leće jakog kontrasta. Iza sebe imaju jedan ep i sve su aktivniji kako na domaćoj tako i na regionalnoj sceni.
promo guy // 04/10/2017