SIBERIAN MEAT GRINDER
(Moskva)
Aktivno se bore od 2011. godine, a sastavljeni su od članova ruskih bendova: What We Feel, Razor Bois, Frank Castle Gonna Break Your Neck i Moscow Death Brigade. Iza sebe imaju dva EP-a: 'Hail to the Tsar' & 'Versus the World' te S/T studijski album uz još nekoliko manjih izdanja i kolaboracija.
Kako ih opisati? Teško! Mix black, thrash i power metala, stonera, HC-a te rapa! Tijekom karijere svirali su sa: Agnostic Front, Terror, Deez Nuts, Born From Pain, Power Trip, Skeletonwitch, Obituary, Sodom, Slayer…
FB: Siberian Meat Grinder
BC: siberianmeatgrinder.bandcamp.com/
**************************************
SHIN
(Zagreb)
Shin je melodični hardcore band nastao 2013. godine u Zagrebu, a sastavljen od članova rodom i brojem iz Zagreba, Karlovca i Siska. Iza sebe imaju dva izdanja: album Running Sick (2014.) i EP Metamorphosis (2016). S EP izdanjem izbacili su i prvi video uradak za pjesmu "Reining The Beast" koja se nalazi na YouTube kanalu Hardcore Worldwide. U kratko vrijeme bend je odsvirao brojne koncerte na domaćoj, ali i stranoj sceni te su stekli dobre kritike.
FB: SHIN
BC: shinhardcore.bandcamp.com/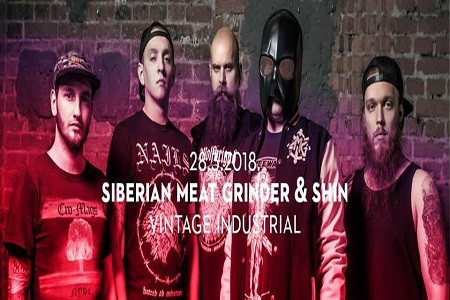 Vrata 20:00 h. Koncert 21:30 h. Karte: 50/65kn. Prodajna mjesta: VIB (Savska 160) & Dirty Old Shop (Tratinska 18)
Više informacija o programu Vintage Industriala:
www.vintageindustrial-bar.com
www.facebook.com/vintageindbar
www.twitter.com/VintageIndBarZg
www.instagram.com/vintageindzagreb
promo girl // 02/03/2018