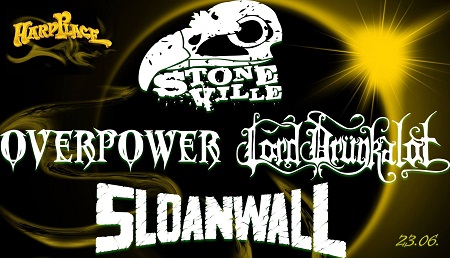 Stoneville se vraća nakon duže pauze. Mjesto za šutku ustupio je Hard Place, a za istu će se pobrinuti Sloanwall, Lord Drunkalot i Overpower.
SLOANWALL
(Stoner Rock, Groove Rock)
Sloanwall je peteročlani groove rock bend iz Zagreba koji postoji od 2014. godine, te je do sada izdao dva EP izdanja pod naslovima "Dawn of light" i "Vol. II" te videospot za singl ''Boogie Monster''.
Sloanwallova najveća kvaliteta definitivno su njihove live izvedbe, što je potvrđeno mnogobrojnim koncertima u regiji (predgrupa Nightstalkeru, koncerti s bendovima kao što su Game Zero, Lost Lucid, Elephant Stalker, Tuber, Rudhen, Glory Owl, Tethra te Dronehunter, Tides of Youth festival na Cresu. Organizatori su Stoneville programa.)
Facebook:
https://www.facebook.com/SloanwallBand/
Youtube:
https://www.youtube.com/watch?v=CF5MAZMAU5U
LORD DRUNKALOT
(Heavy/Doom)
Thrashnjevački trio iz podzemlja Plejsa (LIV, Mrtvi Petak, Distance Or Die, Out Of The Void...), sviraju glasne, zadimljene, C2H5OH666-om natopljene stare heavy rifove u čast Drevnim Paganskim Bogovima distorzije i brljetine iz pakla.
Do sada su svirali sa bendovima kao što su 1000mods, Planet of Zeus i Jex Thoth; singlicom i intervjuom izašli na američkom underground portalu "Doomed & Stoned"; izbacili full LP "E.W.I.L. A.T.O.M." 2016 godine; a trenutno rade na novom albumu koji izlazi ove godine. Prljavo, glasno, nekad sporo, nekad brzo, uvijek masno, kako i treba.
Facebook:
https://www.facebook.com/LordDrunkalot/
Youtube:
https://www.youtube.com/watch?v=qpI-SAdou_Q
OVERPOWER
(Metal)
Overpower je vratobolno - poskočni metal bend iz Zagreba. Nastali 2006. godine, svoj današnji zvuk postigli su nakon što je gitarist preuzeo frontmensku palicu. Mnogi tvrde da je tim potezom bend sjeo na svoje mjesto, a to dokazuju mnogobrojni koncerti u klubovima diljem Hrvatske. Cijela priča zaokružena je i 2014. godine kad su izbacili svoj prvi album "Greatness Within", široko prihvaćen od domaće, ali i strane publike. Novija povijest benda uključuje i videospot za single "Deceiver" koji predstavlja dio novog materijala na kojem bend i dalje radi. Svjesni su situacije da od glazbe nema kruha, a sve rade isključivo zbog ljubavi prema istoj. Nakupljeni bijes i negativnu energiju iskaljuju na svojim instrumentima i garantiraju izvijanje kralježnice na svakom koncertu.
Facebook:
https://www.facebook.com/overpowerband/
Youtube:
https://www.youtube.com/watch?v=lCiI6isVwU8
Karte: 20kn na ulazu.
promo girl // 07/06/2018