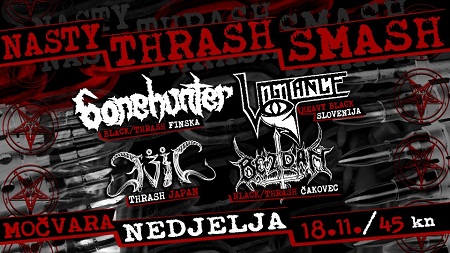 NASTY EVENTS predstavlja:
Bonehunter (Finska)
Bend osnovan 2011. godine, osmišljen kao kombinacija metala i punka, Bonehunter je zapravo protunapad protiv većine pozerskog metala koji je trenutno sve više popularan te im je cilj da postignu krvarenje iz ušiju svih koji ih slušaju. Dolaze iz hladne i tmurne Finske te svoj žanr definiraju kao "DEVIL METAL PUNK". U svojoj bogatoj diskografiji imaju mnogo demo, split i EP izdanja, te tri albuma. Na ovoj turneji promoviraju svoj zadnji, "Children of the Atom" album izdan od strane Hells Headbangers records. TURN UP THE EVIL!!!!
https://bonehuntermetal.bandcamp.com/
Evil (Japan)
Peteročlani black/thrash bend iz Japana. Postoje od 2011. godine te su izdali dva dema i split CD koji su prošli nezapaženo, ali s izlaskom prvog albuma "Rites of Evil", izdanog za Nuclear War Now records, bend je privukao veliku pažnju underground publike te kreće na svoju prvu turneju izvan Japana. Inspirirani bendovima kao što su rani Bathory, Slayer, Sodom i naravno Sabbat, sviraju primitvni thrash metal ali s impresivnim solo gitarama i melodijama. Najveća posebnost benda je to što pjevaju na japanskom jeziku te time postižu veću autentičnost od većine bendova iz Japana koji pjevaju, na ponekad smiješnom, engleskom jeziku. Bend na ovoj turneji promovira live album "Evil Ways of Life" te novi demo "The Gate of Hell".
https://nuclearwarnowproductions.bandcamp.com/album/rites-of-evil
Vigilance (Slovenija)
Rođeni u podzemlju Postojne, Vigilance nam predstavlja svoju viziju pocrnjelog heavy metal napada još od valpurgine noći 2010. godine. Inspirirani harmonijama NWOBHM-a i prljavoćom prve faze black metala, odrokat će nam svoju dozu paprene no isto tako melodične blasfemije. Zadnji put smo ih imali prilike gledati u Ksetu 2015. godine kada su odradili i više nego odličan gig. Tijekom godina bend je izbacio brojne demose, EP i 3 albuma i pritom čvrsto zadržao svoje mjesto u europskom undergroundu!
https://vigilanceofficial.bandcamp.com/
Bezdan (Čakovec)
Sa željom za stvaranjem dijaboličnog "Old School" metala bivši članovi benda Desecrator (2009.-2011.) ponovno se okupljaju i počinju djelovati pod imenom Bezdan (2012.). U početku u tročlanoj postavi stvaraju prve stvari i počinju nastupati. 2014. godine bend dobiva na snazi ulaskom drugog gitariste i time formira svoj konačan zvuk. U ljeto iste godine odlaze u studio i snimaju svoj prvi demo pod imenom "Of Visions and Voyages" koji je izašao na kazeti za izdavačku kuću "From the Dark Past". 2015. godine Snaga (bas) napušta bend i zamjenjuje ga Gnjev. U proljeće 2016. godine bend ponovo odlazi u studio snimiti svoj prvi singl pod imenom "Invocation Rites" koji izlazi na 7" za Mantratya productions.
https://bezdannikaddan.bandcamp.com/
SATNICA:
20:00h - vrata
20:30h - Bezdan
21:20h - Vigilance
22:10h - Evil
23:10h - Bonehunter
before<>after metal slušaona by Leyz Bastard
FB EVENT:
https://www.facebook.com/events/346313769277552/
promo guy // 10/11/2018