Raw Syndicate Booking predstavlja:
MOJO MEN FROM MARS - "TARGET: EARTH!" GRANDE PROMOCIJA!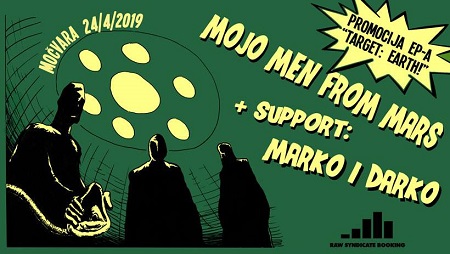 MOJO MEN FROM MARS (ZG)
Mojo Men From Mars na poseban način kombiniraju rockabilly i blues utjecaje s prljavim garage punkom, sirovim zvukom i vrućinom kvartovskog asfalta.
EP "Target: Earth!" (martin's garage) je ugledao svjetlo dana i to je pravi razlog da napravimo opaku garažnu feštu i Grande promociju u Klub Močvara!
https://www.facebook.com/MojoMenFromMars/
https://mojomenfrommars.bandcamp.com
+ SUPPORT:
MARKO I DARKO (ZG)
Jedan je Marko i drugi je Darko. Opaki duo! Glazbeno putovanje do samog srca Zappinog holograma.
https://www.facebook.com/Marko-i-Darko-1492256751059154/
DJ ANGELICA SATANICA (ČAKOVEC)
Muzika: garage, punk, beat, freakbeat, surf, r&b, soul
Izvodaci: The Monks, The Standells, The Electric Prunes, Count Five, Question Mark & The Mysterians, Loose Ends...
promo guy // 22/04/2019