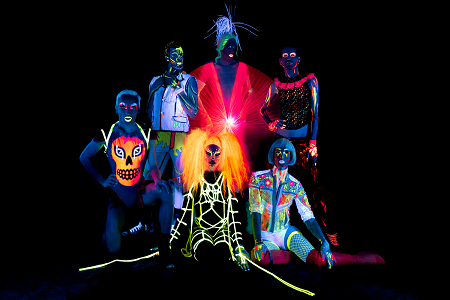 U subotu 8. lipnja, nakon zagrebačke Povorke ponosa, drag kolektiv House of Flamingo u klubu Aquarius s početkom u 20 sati priprema drugo izdanje svoje haute couture scensko-glazbene queer senzacije - klupskog programa FANNY PACK.
Rezidentni akronim HoF kolektiva S.R.C.E. - Spazam Orgazam, Roxanne, Entity i Colinda Evangelista pred publiku izlaze u tri izvedbena bloka koja će kombinirati lip-sync i live izvedbe; uz bok točkama koje priprema i novooformljeni HoF-ov plesni Flamboyance tim. Ples do ranih jutarnjih sati u glazbenoj je režiji setova Bronskog i Heryje (Deep'n'Delicious) te Nicole (Reform).
I ove godine poseban dodatak programu je JUICY mini vogue ball - kreativno plesno natjecanje unutar vogue izvedbenog izričaja. Njime predsjeda jedna od začetnica srednjoeuropske vogue scene, slovačka voguerica Monika Yamamoto uz chant pratnju Plenvm Ninje.
Predloženi dresscode za ovogodišnje izdanje FANNY PACKA je sve što spada pod lepezu neonski ultra ljubičastih tonova. Uz, naravno, prikladnu pederušu!
House of Flamingo je drag queer umjetnički kolektiv koji od sredine 2013. godine aktivno djeluje na zagrebačkoj nezavisnoj kulturnoj i queer sceni. U posljednjih nekoliko godina HoF je gostovao gotovo u svakom glavnom gradu regije (Ljubljana, Beograd, Sarajevo, Podgorica, Skopje) te u Splitu, Poreču, Rijeci, Opatiji, Puli, Zadru ... Najpoznatiji projekti kolektiva su godišnji festival "DRAGram" i valentinovski show "S.R.C.E".
Donacija za queer klupski događaj sezone u pretprodaji iznosi 50 kuna, a na dan događaja 70 kuna do i 100 kuna nakon ponoći. Ulaznice se mogu pronaći u Octopus piercing studiju (Gundulićeva 31). Dodatne informacije o programu potražite na Facebook stranici eventa:
https://bit.ly/FANNYPACK2019
Program se održava uz logističku podršku Kluba Aquarius. Partneri programa su Queer Sport Split, Prostor rodne i medijske kulture K-zona te Octopus Piercing studio.
http://bit.ly/2eoMGCB
promo girl // 21/05/2019