Uz multimedijalni koncept 'Ljeto u MSU' zagrebačko ljeto postat će još užarenije! Zaključili su to jučer brojni nazočni na predstavljanju ovogodišnjeg programa, koji je uz renomirana imena iz svijeta glazbe donio i bogat multimedijalni program prema načelu "za svakoga ponešto". Od 8. lipnja do 13. srpnja na krovu Muzeja suvremene umjetnosti Zagrepčani, ali i sve brojniji turisti, moći će uživati u nastupima izvođača koji već tradicionalno jamče odličnu zabavu.
U novoj sezoni LJETA U MSU očekuje vas 6 nezaboravnih koncerata najboljih rock i art bendova regije na atraktivnim lokacijama - krovu, garaži i na platou kod tobogana Muzeja suvremene umjetnosti! Jedinstveni multimedijalni program već šesto ljeto za redom tradicionalno subotama donosi spoj vrhunskih umjetničkih sadržaja po načelu čak "5 u 1": glazba, film, izložbe, performansi i književna čitanja!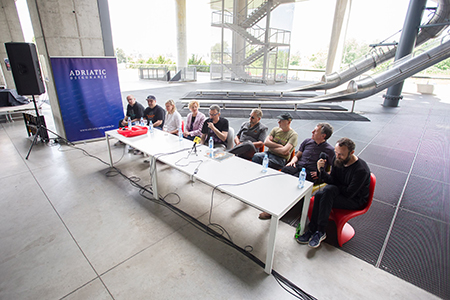 Sezonu 8.6. otvaraju najbolji etno art bend KRIES, a nakon njih, neprikosnoveno najbolji art rock sastav regije svih vremena - ikone avangardne, čuveni LAIBACH u sklopu velike europske turneje na krovu Muzeja suvremene umjetnosti 15.6. priredit će pravi audio-vizualni doživljaj za sva osjetila! Spektakularan koncert Laibacha pratit će kompaktan multimedijalni program koji uključuje otvorenje izložbe fotografija Laibachove turneje po Koreji u suradnji s ljubljanskom Photon galerijom te projekcija filma o Laibachovom prvijencu uz predavanje Ivana Moleka.
Drugi slovenski bend i europska art-dance klupska atrakcija BORGHESIA na repertoaru je 22.6., dok je subota 29.6. rezervirana za legendarni sarajevski bend LETU ŠTUKE, autore najboljeg pop rock albuma sezone. THE STRANGE, sastav kojeg čine bivši članovi The Bambi Molestersa, predvođeni multitalentiranim Chrisom Eckmanom, liderom legendarnih The Walkaboutsa, na krovu MSU-a za sve poklonike atmosferičnog alternativnog pop-rocka i americane sviraju 6.7. Sezonu ćemo zaokružiti 13.7. velikim povratničkim koncertom najvećih hrvatskih hip-hop legendi - TRAM 11!
Kroz spoj glazbe, filma, književnosti, te vizualne i izvedbene umjetnosti program Ljeto u MSU nastoji se približiti pojmu Gesamtkunstwerka, potpunog umjetničkog doživljaja koji proizlazi iz suradnje različitih formi umjetnosti, a koji će omogućiti približavanje suvremene umjetnosti i kulture što široj publici.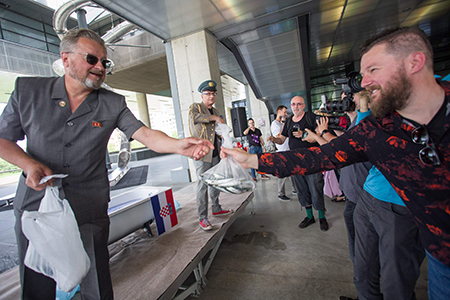 Tokom pressice, idejni začetnik Ljeta u MSU i Jani Novak iz grupe Laibach održali su performans o kojem će se dugo pričati. Bratimljenje Slovenije i Hrvatske te simbolično rezanje žilet žice i podjela svježih srdela uzvanicima. Ova vrsna performativna provokacija obilježava odnose Hrvatske i Slovenije, koje su akteri pokušali pomiriti.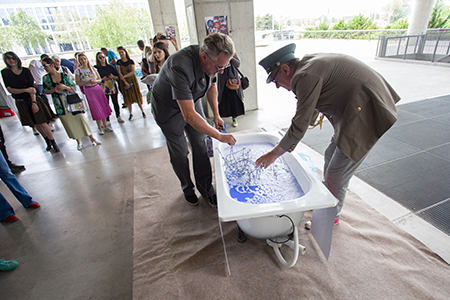 Vidimo se na vrućem krovu MSU-a!
promo girl // 05/06/2019