Crime:Scene Collective i RKC MATKA sa ponosom predstavljaju:
EKSKLUZIVAN TEŽAK ROCK and ROLL MULTIETNIČKE ATRAKCIJE PONOVO U NOVOM SADU!!! ► NE PROPUSTI AUTENTIČNU ZABAVU ATRAKCIJE!!!! ►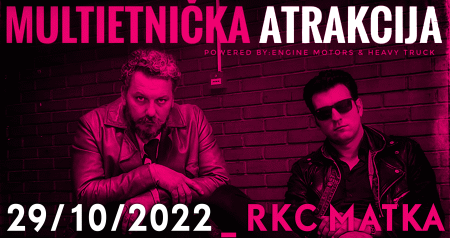 Nakon uspešnog koncerta u Novom Sadu pre više od godinu dana, beogradski duo Multietnička Atrakcija nastupiće ponovo u Rusinskom Kulturnom Centru u subotu 29. oktobra 2022. u 23h. Bend će ovom prilikom predstaviti publici svoj dobro poznati težak r'n'r zvuk a takođe i izvesti nekolicinu novih pesama.
Kao warmup koncerta DJ Inquisitor pušta ljuti rock'n'roll zvuk od 21h, dok će nakon kocnerta od 00:00 vrteti DIVLJI rock'n'roll! Očekujte samo dobar provod i dobru svirku!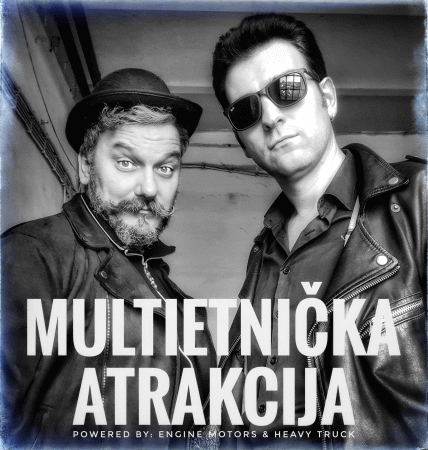 // cena ulaza: 300 dukata
21:00 - // door open //
21:30 - DJ Inquisitor (ljuti rocknroll set)
23:00 - MULTIETNIČKA ATRAKCIJA
00:30 - DJ Inquisitor (divlji rocknroll set)
Facebook event:
www.facebook.com/events/791768705484046
Vidimo se 29/10/2022!!!
sve najbolje,
Crime:Scene Collective
crimescenerecords.bandcamp.com
mrtsound.bandcamp.com
"If something is actual, there's really no need to believe in it. You only have to believe something if it isn't true, because if it were, belief wouldn't be necessary.
"
promo guy // 19/10/2022