Drop Dead Festival postoji već 5 godina. Tradicionalno se održava u Americi i najveći je gothic - post punk - deathrock - psychobilly festival na svijetu na kojem svake godine nastupi više od 65 bendova, što već poznatih legendarnih izvođača, što mladih nada. Ove godine će se po prvi puta održati u Europi i to u Pragu koji je odabran zbog svoje ljepote i lokacije na spoju istočne i zapadne Europe. Termin događanja je također prigodan. Početak je zakazan za Noć vještica (31.10.), nakon koje slijedi Dan mrtvih, a sve traje do nedjelje 04.11.2007.
Za sada najavljeni bendovi uključuju legende kao što su Lene Lovich (UK), Sex Gang Children (UK), Norma Loy (France), Ausgang (UK), Charles De Goal (Francuska), Klingonz (UK), Spellbound (Irska), Death Valley Surfers (UK), The Spook and Crimson Ghosts (Njemačka) i specijalni reunion škotskog deathrock benda Twisted Nerve. Osim njih nastupit će i noviji bendovi poput Miguel and The Living Dead (Poljska), Naughty Zombies (Španjolska), Din Glorious (SAD), Sixteens (SAD), Joy Disaster (Francuska), Cremaster (Njemačka), Deep Eynde (SAD), Nim Vind (Kanada) i mnogi drugi.
Festival će se održati na više lokacija koje su sve smještene u centru grada u blizini praških znamenitosti. Započet će u srijedu 31.10.2007. u 007 Club-u s koncertom lokalnih bendova, a zabava se zatim seli u Swamp Club gdje će se održati kostimirani Halloween Party kojem će domaćini biti Gothic Pogo Party crew iz Leipziga, a do kraja tjedna u više klubova moći ćete pogledati oveći broj bendova.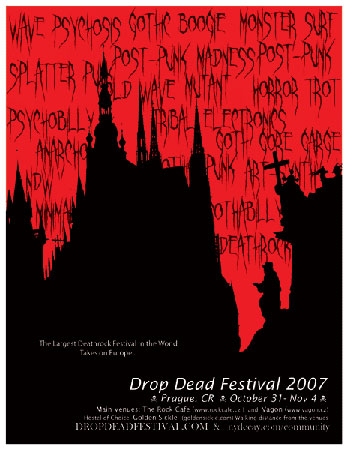 Osim koncerata Drop Dead Festival je poznat i po velikom broju drugih događanja, a ove godine su najavljeni partiji do zore na kojima će međunarodni DJ-i puštati deathrock, post punk i slične žanrove, veliki sajam, druženje s bendovima, prikazivanje filmova i cjelodnevni izlet poznatoj Crkvi od kostiju, naravno.
Ulaznice u pretprodaji koštaju 65 eura i uključuju ulaz na sva događanja svih 5 dana Festivala. Kada Festival počne za istu ćete morati izdvojiti 75 eura. Ulaznice možete naručiti na
službenom sajtu Drop Dead Festivala
gdje možete naći i hrpu korisnih informacija o samom Festivalu kao i o Pragu. Festival ima i svoj
myspace site
koji isto svakako posjetite.
Treba li se uopće reći da je ovo nešto što niti jedan ljubitelj ovakve glazbe ne smije propustiti. A vjerujem da bi i onima koji to baš i ne slušaju moglo biti vrlo zabavno i zanimljivo.
ana // 24/07/2007