TRIP TO ZION ponosno predstavlja:
Ravno iz Londona na naš stage dolaze
ALPHA & OMEGA !!!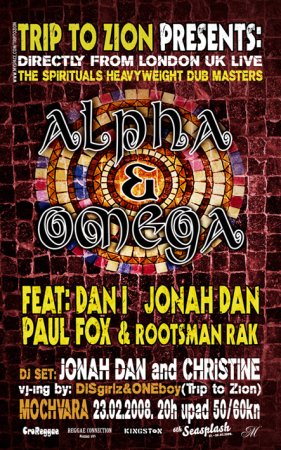 live act:
Alpha & Omega feat Christine & Dan I & Jonah Dan & Paul Fox & Rootsman Rak
dj set:
Jonah Dan and Christine (Alpha & Omega)
dj support: Trip to Zion crew
vj-s:
DISgirlz&ONEboy(Trip to Zion)
Svojim prvijencem "Daniel in the Lions' Den" 1990. godine Alpha & Omega pomogli su utrti put jedinstvenom novom glazbenom pravcu. Opojni zvukovi A&O pomogli su utvrditi novi glazbeni teritorij, klizeći jednako lako u kućni hi-fi kao krajnje opušten, meditativan dub dok ih s druge strane karakterizira munjeviti ortodoksni reggae-dub zvuk poput moćnog Jah Shake.
"Alpha And Omega have been making some of the most spiritually charged roots reggae of the contemporary heavyweight UK dub persuasion"
NME
"Premier Brit dub with a spooky Coptic ambience from the respected Christine / John partnership. Best enjoyed at sound system volumes accompanied by the herb that is not basil"
Q MAGAZINE
www.myspace.com/dubmagic
Alpha And Omega Dubsite
www.myspace.com/paulfoxshadesofblack
www.myspace.com/rootsmanrak
www.myspace.com/disgirlzandoneboy
www.myspace.com/triptozion
Karte po cijeni od 50kn za koncert Alpha & Omege u Zagrebu mozete rezervirati tako da posaljete svoje cijenjeno ime i prezime na mail: triptozion@gmail.com
Kartu cete moci podignuti na ulazu u klub na dan koncerta.
le figuar de kranque // 20/02/2008