Zaželite dobrodošlicu jednom od rijetkih preživjelih bandova s misijom. Naziv su dobili prema vojsci osnovanoj 1645. godine u engleskom građanskom ratu, koja se razlikovala od regularne vojske po tome što nije bila vezana za garnzion ili utvrdu, već je smjela operirati diljem zemlje. Upravo tako New Model Army djeluje od 1984. godine kada su u jeku post-punk histerije izdali album Vengeance, koji se još može nazvati nekakvim post-punkom, ali otada im je praktički nemoguće odrediti stil, budući da lagano koketiraju s biločim što ima veze s rockom. No, kao zajedničku odrednicu njihovih faza možemo spomenuti himničnost i melodičnost kombiniranu s moćnom ritam sekcijom a njihove nastupe intenzivnim i energičnim eksplozijama pozitivne energije. Slično kao i još jedan underground band The Levellers, i NMA također ima jaku grupu odanih sljedbenika okupljenim pod nazivom The Family.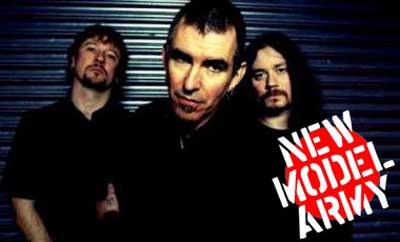 Tekstovi su vrlo poetični i emocionalni, ali zato ništa manje politički i humanitarni, a napisao ih je pjevač Justin Sullivan koji se zasigurno može smatrati jednim od najosebujnijih povava engleskog undergrounda. Justin je po uvjerenju Quaker, već dugo je u vezi sa spisateljicom Joolz Denby koja se često pojavljuje kao muza ovog banda, a nerijetko učestvuje u pisanju tekstova i pjesama te u izradi omota za albume.
Ulaz je slobodan od 21 sat, a cijena ulaznice u pretprodaji iznosi 140 kn, dok na dan koncerta na blagajni kluba iznosi 170 kn.
Prodajna mjesta u Zagrebu su Integral (pothodnik) i Boogaloo Club, te sva prodajna mjesta sistema Eventim (u Zagrebu Berislavićeva 13).
djole // 10/11/2008
PS: Kao predgrupa NMA, nastupit će PHANTASMAGORIA.