U subotu 25.07.2009. u Metal baru Runa održat će se System Of A Down slušaona. Bend koji nažalost ne postoji već 3 godine. Četiri čovjeka (Serj Tankian na vokalu, Daron Malakian na gitari i vokalu, Shavo Odadjian na basu te John Dolmayan na bubnjevima) stvorili su unikatni spoj mnogih žanrova u poseban zvuk System Of A Downa. U svojoj dvanaestogodišnjoj povijesti su snimili 5 vrhunskih albuma, te izbacili klasike benda poput Spiders, Aerials, Chop Suey, B.Y.O.B...
Uz puno System Of A Downa, te večeri možete uživati i u posebnoj alternative metal slušaoni, moći ćete čuti bendove kao što su Diablo Swing Orchestra, Rammstein, Korn, Limp Bizkit...
Dođite, popijte piće, uživajte i slušajte dobru glazbu koju će vam puštati dj Kneža i dj Džo.
Početak party-a je u 19h, ulaz je besplatan.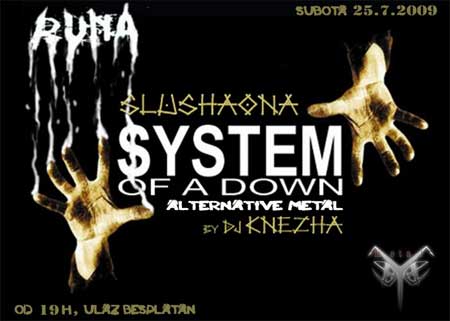 promo guy // 23/07/2009