KAMO SUTRA
Ska-Punk-rock bend koji 15 godina uveseljava metropolu svojim ludim, žestokim, veselim i energičnim svirkama. Upravo su završili album prvijenac ''Boljšoj!'' snimljen u KramaSonik studiju kod Hrvoja Niksica. Kamo sutra kombiniraju punk-rock sa novim valom 80-ih, ska, sevdahom i garageom.
CHERKEZI UNITED
Jednako energični hrvatsko/ukrajinski ska/punk-rock/folk kvartet koji obrađuje teme iz crtanih filmova opet je aktivan i po prvi put će zasvirati na bini u Pierottijevoj 11.
Nakon koncerata
DJ GYROS
istovremeno će slati angažirane sms poruke te odabirati the best of ska selekciju sa svog Ipod touch-a.
Upad 25 kuna od 22 h.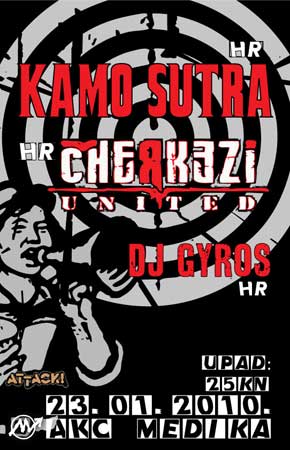 promo guy // 21/01/2010