Trip to Zion predstavlja ljetnu ediciju svojih zabava u zagrebačkom klubu Močvara! Ako ste ostali u znojnom Zagrebu ili ste se taman vratili osunčani, navratite na plesnu školicu pod dirigentskom palicom DJ Jan Becele-a i njegovih prijatelja!
"SUMMER TRIP: FREE the BASS"
...from reggae, dub to dubstep, jungle, breaks, d'n'b,...
dj JAN BECELE (Trip to Zion/DUBstep KLUB) & friends
vj-ing by TRIP to ZION visuals
support: www.reggae.hr
Upad: 20 KN, s pozivnicom do 00:00 džaba
www.myspace.com/triptozion
www.mochvara.hr
MOČVARNE MULJ AKCIJE!!!
Za sve vikende (=petak i subota) u periodu od 02. srpnja do 28. kolovza upad je samo 20 kn, a u istom periodu u opticaju su i pozivnice s kojima je omogućen džabe upad u klub do ponoći. Pozivnice možete naći u klubu, kod dj-a ili na raznim kul mjestima u gradu. Također, Močvarci su za vas priredili i happy hour svim vikendima prvih sat vremena rada kluba (22-23h) kada je točena žuja 10 kuna, veliki bambus 10 kuna, a pelin 5 vjeverica.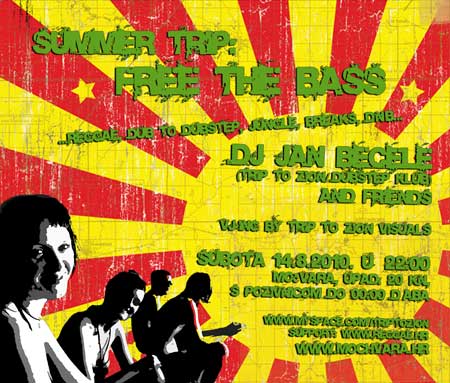 promo girl // 09/08/2010