FB EVENT:
https://www.facebook.com/events/1665265066868317/
Koncert koji ne smijete propustiti! Vraćaju se kultni zli sinovi punka i rocka - THE DWARVES, a njihov najnoviji član Nick Oliveri dovlači i svoj bend NICK OLIVERI DEATH ELECTRIC, koji će napraviti mix pjesama koje je Nick napisao za Mondo Generator i Queens Of The Stone Age. To nije sve! Hardcore poslastica bit će ruski bend SVETLANAS, predvođeni eksplozivnom pjevačicom Olgom, slove za najopasniji bend na svijetu, jer su isprva bend koristili kao paravan za špijunske aktivnosti koje su obavljali u KGB-u.
THE DWARVES
Američki punk rockeri iz Chicaga krenuli su šokirati sredinom 80-ih godina. U startu su krenuli kao garage punk bend, ali s vremenom su ipak svoj zvuk požestili, kao i tekstove pjesama, vizuale i stage performans. Zle sinove je etabliralo samoozljeđivanje za vrijeme nastupa, seks na pozornici, droga, a često su koncerte prekidali nakon 20-ak minuta zbog ozbiljnosti ozljeda koje su nanijeli.
Često ih se karakterizira kao posljednji istinski bastion punk rock ideologije. Uspoređivani su sa The Sonicsima (također ih ulovite kod nas ->https://goo.gl/1cASNX) te su bili dio Paisley Underground scene. A veliki utjecaj i uzor bio im je unikatni GG Allin.
Album coveri su često bili namjerno eksplicitni i zbunjujući (za neke), a često je glavni akter bio glumac patuljastog rasta Bobby Faust koji je za potrebe benda uživao fotografiranje u društvu obnaženih žena, ponekad i s jako rubnim idejama poput razapinjana na križ. Sodomija, krv… gotovo što god ti padne na pamet.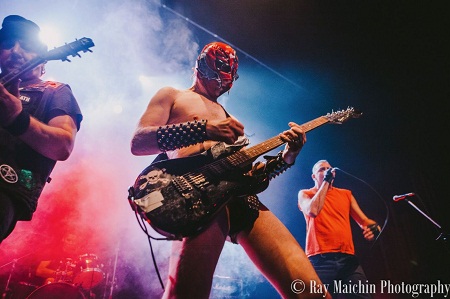 NICK OLIVERI BAND 'DEATH ELECTRIC'
Nick Oliveri se vraća u Vintage Industrial ovaj put kao višestruka ličnost, budući da svira u The Dwarvesima, u svom novom bendu 'Death Electric' te u ruskoj poslastici tog četvrtka Svetlanas. Ukratko u formi 'Death Electric' možete očekivati sve uspješnice koje je Nick napisao za QUOTS-a, Mondo Generator, Kyuss…
SVETLANAS
Ruski punksi koji su oformili bend prvotno zbog špijunskih aktivnosti u KGB-u te zbog toga nose titulu 'THE MOST DANGEROUS BAND IN THE WORLD'.
Ruski trashcore pankeri Olga, Diste, Steve i Ricky dobili su i pojačanje u obliku zvijezde večeri Nicka Oliveria, koji im povremeno uskoči na nastup i dodatno ga zapapri.
Karte 65/80kn I Pretprodaja: Vintage Industrial (Savska cesta 160) & Dirty Old Empire (Tratinska 18)
promo guy // 18/01/2018