Distune promotion i HKD vam predstavljaju
The Tiger Lillies (UK)
Subota, 09.11.2019., @HKD na Sušaku
Napokon u Rijeci!
Forefathers of Brechtian Punk Cabaret!
30 godišnjica show programa zvanog Tiger Lillies!
Svijet The Tiger Lillies je taman, osebujan i raznolik, s trenucima duboke tuge, okrutnog crnog humora i neizmjerne ljepote. Ovaj jedinstveni "anarhični Brechtov ulični operni trio" obilazi svijet svirajući pjesme o "svemu što ne uključuje lijepe plavokose djevojke i dječake koji trče na livadi" kako bi citirali svog osnivača Martyn Jacquesa.
Preko 30 službenih izdanja, bezbroj turneja praktički po svim kontinetnima, pjesme korištene za kazalište, ali i za film, brojne nagrade, sve je to dio opusa jedinstvenih Tiger Lillies!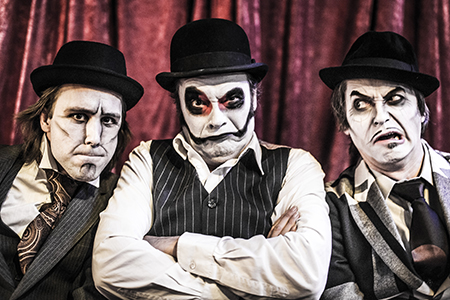 The Tiger Lillies © press
Premijerno u Rijeku dolaze predstaviti svoje zadnje izdanje "Devil's Fairground" a sve začinjeno 30 godišnjicom benda! Glazba koju stvaraju mješavina je prijeratnog berlinskog kabarea, anarhične opere i ciganske glazbe, odražavajući glasove Bertolta Brechta i Jacquesa Brela.Njihove pjesme pokrivaju sve mračne aspekte života, od prostitucije i ovisnosti o drogama do nasilja i očaja, uvijek prožete dodirom iskrivljenog humora i oštrom ironijom.
Ulaznice su već u prodaji i mogu se naći u Dallas music shop Rijeka te putem sustava Mojekarte.hr, kao i na blagajni HKD-a (otvorena sat vremena prije svakog programa) po cijenama:
balkon-
105,00kn do 8.11.
125,00kn na dan
parter-
105,00kn do 30.6.
125,00kn od 1.7. do 8.11.
155,00kn na dan
The Tiger Lillies
Svojim potpisom šansona, opere i ciganske glazbe, londonski eksperimentalni rock trio Tiger Lillies teško je definirati u jednoj rečenici. Grupa je započela svoje užitke u tradiciji prostitutki, opijumskih brloga i zlog života vječnog uličnog glazbenika 1989. godine, kada je pjevač Martyn Jacques objavio oglas za bubnjara i basiste. Jedini su mu odgovori bili Adrian Huge i Phil Butcher, koji su završili izvornu postavu benda. Ova verzija Tiger Lilliesa izdala je svoje prve snimke na kazetama (koje su kasnije sakupljene na kompilaciji "Bouquet of Vegetables: The Early Years") i 1994. "Births, Marriages and Deaths" prije nego je basist Adrian Stout 1995. godine zamijenio Butchera.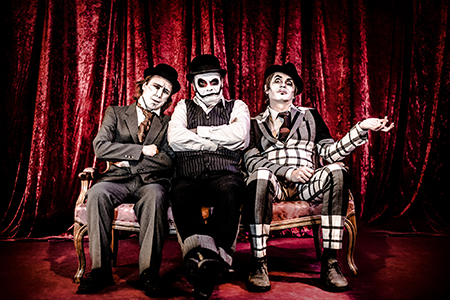 The Tiger Lillies © press
Bend je bio plodan tijekom 90-ih, izdavajući albume uključujući "Spit Bucket" (1995.), "The Brothel to the Cemetery" (1996.), i "Farmyard Filth" (1997.) prije nego što je pridonio glazbi Shockheaded Peteru, mahnitoj glazbenoj adaptaciji 19. stoljeća. Njemačka knjiga upozoravajućih priča za djecu, 1998. godine, producirala je istoimeni album Tiger Lillies te je 2002. godine osvojila dvije nagrade Olivier.
Godine 2003., trio je radio s Kronos kvartetom i ilustratorom / piscem Edwardom Goreyem na drugoj, "The Gorey End". Inspiriran kutijom neobjavljenih priča i crteža koje je Gorey poslao bendu, album je objavljen ubrzo nakon njegove smrti i nominiran je za Grammy nagradu za najbolji klasični Crossover album. Tijekom godina Tiger Lillies interpretirao je poznata djela, uključujući "Punch i Judy" (2004), "The Little Matchgirl" (2006), "The Rime of the Ancient Mariner and Hamlet" (oba 2012.), te surađivao s umjetnicima od Simfonijskog orkestra Norrlandsoperan (na "Urine Palace" 2007.) fotografu Nan Goldinu ("The Ballad of Sexual Dependency" za 2011.).
Huge je napustio grupu 2012. godine, a turnejski bubnjar Mike Pickering je zauzeo njegovo mjesto do 2015. godine, kada se Jonas Golland pridružio bendu. Kako su se 2010. nastavili, raspon utjecaja grupe proširio se. Zajedno s očekivanom vožnjom kao 2014. "Lulu: A Murder Ballad", koja je inspirirana smionim dramama 19. stoljeća njemačkog dramatičara Franka Wedekinda o njegovoj nesretnoj heroji Lulu, trio se bavio i temama poput Prvog svjetskog rata ("A Dream Turn Sour") i rad Sørena Kierkegaarda ("Either Or"). Kasnije u ovom desetljeću, trio je istraživao modernije izvore inspiracije. Godine 2016. objavili su počast Cole Portera "Love for Sale and Goosebumps Alive", koji je slavio kultne omiljene knjige R.L. Stinea u pjesmi. 2017. godine, "A Cold Night in Soho" uzela je istančan, oštar osvrt na vrijeme Jacquesa u Soho-u 80-tih.
THE TIGER LILLIES su:
Martyn Jaques - vokal, harmonika, klavir, gitara
Adrian Stout - kontrabas, glazbena pila, teremin, vokal
Jonas Golland - bubnjevi
promo girl // 29/10/2019