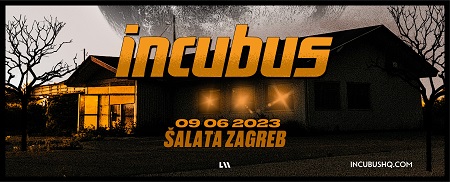 Incubus
, legendarni alt rock bend iz Los Angelesa, po prvi puta dolazi u naše krajeve i to na zagrebački stadion Šalata u petak 9. lipnja 2023.
Premijerni nastup jednog od najpoznatijih alter bendova na omiljenoj gradskoj pozornici u centru označit će sjajan uvod u ljetnu sezonu, a Incubus u Zagreb dolazi u sklopu velike turneje.
Kalifornijski bend je do sada prodao 23 milijuna albuma diljem svijeta, postigao višestruko platinaste naklade, a njihovi albumi su redovito u prvih pet mjesta Billboardove ljestvice 200 najboljih albuma. Istovremeno fenomen benda se proširo na streaming servise, gdje broje prosječno 4,1 milijuna slušatelja mjesečno, kao i više od milijardu streaminga pjesama na raznim platformama.
Objavili su osam studijskih, kao i pet live albuma, dok su četiri singla, "Drive", "Megalomaniac", "Anna Molly" i "Love Hurts", zacementirala poziciju na prvom mjestu Billboardove ljestvice alter rock pjesama. Uhvatili su i nominaciju za Grammy i to za najbolju Hard Rock izvedbu za pjesmu "Megalomaniac".
Od 16. travnja do 8. lipnja cijena će im iznositi 42 Eur, a na dan koncerta 46 Eur. Službena prodajna mjesta su Dirty Old Shop, Rockmark, Dallas u Rijeci, te sva prodajna mjesta Eventima kao i
www.eventim.hr
. Informacije o VIP paketima dostupne su na web stranici benda.
Po jedan dolar od svake prodane ulaznice ide u zakladu Make Yourself kojom bend pomaže ugroženim zajednicama diljem svijeta.
FACEBOOK EVENT:
https://www.facebook.com/events/607531350827693
promo guy // 23/05/2023