Nakon
koncerta švedskih heavy metal velikana HammerFall
koje prate američke heavy metal legende Vicious Rumors i švedske nove metal nade Amaretnthe i Death Destruction će se
s početkom točno u ponoć
nastaviti Rock Party.
Dj postava Tomi Phantasma i Sasha The Cult vrtit će metal, hard rock i rock hitove. Neki od bendova koji će se naći na playlisti su: The Doors, Led Zeppelin, Black Sabbath, AC/DC, Metallica, Iron Maiden, Motorhead, Guns N' Roses, Ramones, The Cult, Billy Idol, Alice in Chains, Iggy Pop, Sepultura, The Clash, Franz Ferdinand, Red Hot Chily Peppers, System Of A Down, Korn, Pain, Motley Crue, Alice Cooper, Kiss, WASP, Rammstein, Marilyn Manson,..........a i pokoja domaćica nije isključena.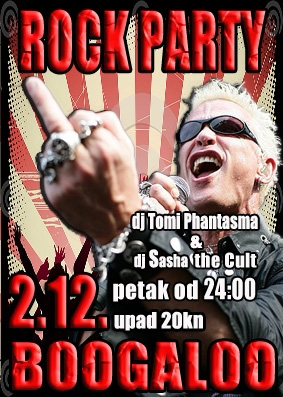 Posjetitelji koncerta s ulaznicom imaju besplatan ulaz na Rock Party, do će svi ostali morati platiti ulaznicu u iznosu od 20 kn na ulazu u Boogaloo Club.
Boogaloo Club ima veliku natkrivenu i grijanu terasu gdje se slobodno može pušiti.
Dobrodošli.
promo guy // 28/11/2011