"Ultimativni stoner rock band"
Sleep
najavljeni su kao novi headlineri 4. Asymmetry festivala. Sleep se smatraju pionirima i jednim od najvažnijih bendova stoner rocka. Bend je osnovan 1990. godine i brzo je pridobio vojsku obožavatelja i naklonost kritike, koje su opčinili svojim sporim ritmovima i hipnotizirajućom atmosferom. Zbog nesuglasica s izdavačkom kućom, Sleep su se raspali osam godina kasnije, ali 2009. se ponovo vraćaju na scenu.
sleep
Dogodila se i jedna promjena u programu - umjesto
najavljenih
Priestess
, dolaze
Black Tusk
.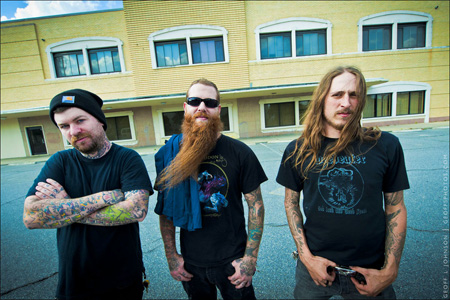 black tusk
Do sada potvrđeni bendovi na 4. Asymmetry festivalu su: Killing Joke, Sleep, Bohren & der Club of Gore, AEthenor, Red Fang, Amenra, Obake, The Ocean, A Storm of Light, Joe Lally, Black Tusk, The Ascent of Everest, Broken Note, Igorrr, Niveau Zero, Celeste, Mombu, Vladimir Bozar 'n' Ze Sheraf Orkestär, A Whisper in the Noise, Infekcja, My Own Private Alaska, MetaZen, Earthship, Coilguns, Kunz, Nicolas Chevreux, Codeshift, Kiss Me Kojak, Panacea, Thaw, Nod Nod, Drom, Vaetxh, Ass to Mouth, Ddekombinacja, We Are Idols, Guantanamo Party Program, Escape From Paris.
Službeni poster festivala je opet djelo talijanskog umjetničkog kolektiva Malleus Rock Art Lab. Tom prigodom Asymmetry je odlučio
dati priliku vama da osvojite dvije festivalske ulaznice
. Sve što trebate je obojati po želji crno-bijeli Malleusov poster. Ako ne budete najbolji, Asymmetry je pripremio i utješne nagrade u obliku CD-a i ulaznica za Asymmetry Festival Before Party 3. Svoju verziju postera možete poslati do kraja Veljače.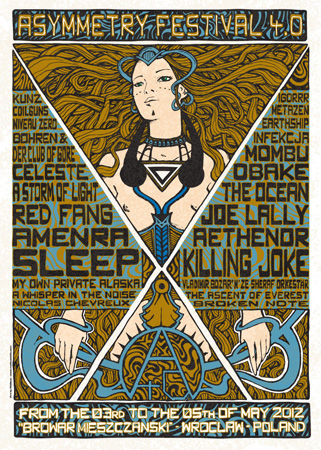 Asymmetry Festival 4.0 © Malleus Rock Art Lab
Ulaznice za Asymmetry Festival 4.0 su u prodaji preko
službene festivalske stranice
,
Ticketportala
i
Ticketproa
(gdje je moguće kupnju obaviti kreditnim karticama).
Festivalska ulaznica(03-05/05/2012): 220 PLN (oko 49 EUR).
Dnevna ulaznica (03/05/2012): 110 PLN (oko 25 EUR).
Dnevna ulaznica (04/05/2012): 50 PLN (oko 11 EUR).
Dnevna ulaznica (05/05/2012): 110 PLN (oko 25 EUR).
U slučaju bilo kakavih problema možete se javiti na
tickets@asymmetryfestival.pl
. Više o novim prodajnim mjestima uskoro.
ana // 21/02/2012