Tradicionalni, i ujedno jedan od prvih Halloween partya na ovim prostorima, Twilight Halloween Party, koji ove godine slavi svoj 20 rođendan, će se ove i godine održati na sam dan noći vještica tj. Samhain, (originalan naziv tog blagdana), u zagrebačkoj koljevci darkeraja, klubu Jabuci.
Twilight Halloween je po svojoj "spooky" scenografiji, kostimografiji i glazbi definitivno najmračniji, a po tome najzanimljiviji i najvjerodostojniji Halloween party na ovim prostorima. Pored prigodnog ukašavanja kluba su posjetitelji oni koji svojom kostimografijom doprinose poseban ugođaj Halloween partija, a zbog toga će najbolje maskirani, koji će biti odabrani od strane posebnog žirija, dobiti nagrade za najbolje maske. Nagrade će se sastojati od parcijalne masaže i tretmana lica u salonu Beauty Anne, Trg Ivana Kukuljevića 14, Špansko, Zagreb, besplatan piercing u Piercing studiu Octopus, Gundulićeva 37, Zagreb, bon za tetovažu u Tatto studiju Octopus, Ilica 98, Zagreb, članskih iskaznica kluba Jabuke sa kojima je osiguran besplatan ulaz u klub Jabuku na slušaonice diljem godine, bon za besplatnu konzumaciju na šanku...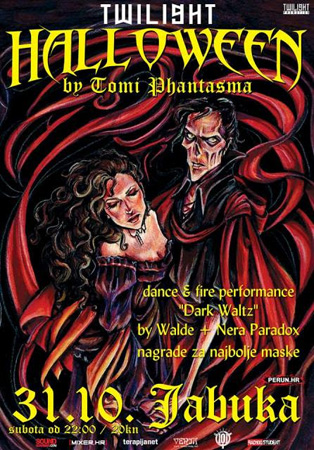 Pored "spooky" uređenja Jabuke će se na terasi održat i dance & fire performance pod nazivom "Dark Waltz" koji će izvest zagrebačka plesna grupa Walde uz gošću performericu Neru Paradox i svirače tradicionalne škotske glazbe United Colors Of Tartan. Radi se o kratkoj dramsko-plesnoj priči u dva djela koja kroz ples priča priču o dušama, demonima, anđelima i ostalim onostranim stvorenjima.
Tomi Phantasma će vas zabavljati s prigodnim audio-video mixom mračnih hitova od 80-ih do danas tj. od post punka, new wavea, synth popa, dark rocka, darkwavea, gothica, ebm-a, industriala, punka, indiea, altera, gothic metala,... tj. Bauhaus, Joy Division, Dead Can Dance, The Cure, Siouxsie, David Bowie, Iggy Pop, The Sisters Of Mercy, The Damend, Christian Death, Killing Joke, Fields Of The Nephilim, Mizar, EKV, Rosetta Stone, London After Midnight, Clan Of Xymox, Cassandra Complex, Front 242, Nitzer Ebb, Borghesia, Laibach, Die Krupps, Rammstein, Marilyn Manson, Nine Inch Nails, Rob Zombie, Depeche Mode, Human League, Ultravox, The 69 Eyes, Moonspell, Tiamat, Type O Negative, Paradise Lost, Satyricon, Mortiis, Misfits, Ramones, Dead Kennedys, Gary Numan, Heroes Del Silencio, Him, The Cult, Pixies, The Cramps, Nick Cave, The Smiths, The Stranglers, Violent Femmes, Danzig, White Lies, Diva Destruction, Placebo, Covenant, Editors, Love Amongst Ruin,.....
Program će započeti u 22 sata i trajati do 5 sati ujutro, a cijena ulaznice iznosi 20 kn (članske iskaznice za ovu prigodu ne vrijede).
promo girl // 25/10/2015