Dugoočekivani drugi studijski album grupe BLOC PARTY imenom "A WEEKEND IN THE CITY" bit će objavljen 5. veljače 2007. godine.
Produciran od Jacknife Leeja i snimljen u Grouse Lodge studiju u Irskoj novi album sadrži impresivnu kolekciju jedanaest novih pjesama od kojih je "The Prayer" odabrana za prvi single.
"A Weekend In The City" inspiriran je interesom vokala grupe Kelea Okerekea za, kako je naziva, "živu buku metropola". Album konceptualno i detaljno prenosi osjećaj svakodnevnog života u modernom gradu sa svim svojim prednostima i nedostacima, ali na tipičan i već osvjedočeno uspješan "Bloc Party" način - pršteći energijom, emocijama i prekrasnim melodijama. Uvijek prisutan problem drugog albuma "A Weekend In The City" riješava bez previše problema potvrđujući pritom sva priznanja koje su grupa i prvijenac "Silent Alarm" prigrabili tijekom protekle dvije godine.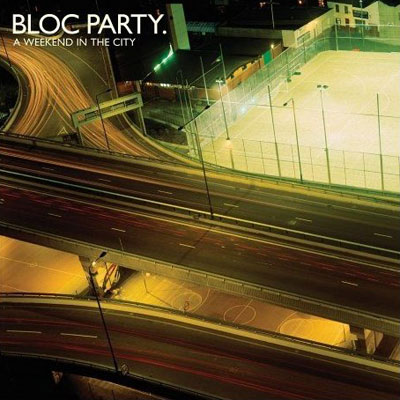 Podsjetimo,
već objavom albuma
(u veljači 2005.) i singla "Helicopter" Bloc Party su dobili izvanrednu pažnju medija i publike opravdanu kroz slijedeće singlove, poglavito "Banquet" i "The Pioneers". Priča je zaokružena s više od milijun prodanih primjeraka diljem svijeta i NME-evom nagradom za album godine.
Album "A Weekend In The City" sadrži slijedeće pjesme:
01. Song For Clay (Disappear Here)
02. Hunting For Witches
03. Waiting For the 7.18
04. The Prayer
05. Uniform
06. On
07. Where Is Home?
08. Kreuzberg
09. I Still Remember
10. Sunday
11. SRXT
Bloc Party započinju 25. siječnja turneju po Velikoj Britaniji u sklopu koje će, do 22. veljače, održati 21 koncert nakon čega odlaze na nastupe u Japan. Poslije Japana započinju europsku turneju koncertima u Bologni i Milanu.
promo guy // 09/01/2007