Svako toliko u glazbenom biznisu ponudi nam se neki rivajvl, bilo da je po godištu ili po glazbenom pravcu. Da sad nejdem preduboko u materiju, zaustavljam se na nedavnim "spasiocima rokenrola" - THE STROKES, THE WHITE STRIPES, dok je protekla godina donesla rivajvl "new wave-art-punk osamdesetih" s FRANZ FERDINANDOM, THE KILLERS, FUTUREHEADS kao predvodnicima i mnogim drugima koji su se ubacili na taj vlak.
Vesele plesne poskočice, začinjene ponegdje gitarama, ponegdje sintovima, a "catchy" refreni s podlogom osamdestih i tehnologijom 21. stoljeća vladaju top-listama i ove godine.
Iako još ni dva mjeseca tekuće godine nisu istekla, već se barem tri albuma trse za naslov najboljeg ove mlade godine. Jedan od njih je svakako ovaj.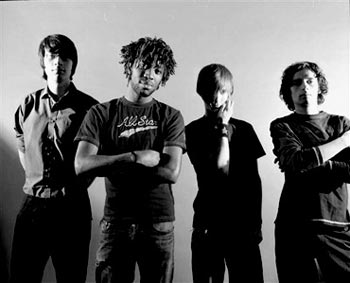 bloc party © www.blocparty.net
Mladi londonski bend BLOC PARTY nošen slavom FRANZ FERDINANDa, koji su me opčarali plesnim art-new-wave-dopišipovlastitomukusu i
svojim prošlogodišnjim albumom
potukli sve rekorde slušanosti u mojem plejeru (a i šire), ne bi vjerojatno bio tu gdje sad je, da nije bilo tih istih FF, koji su ih pozvali kao predgrupu na jedan njihov koncert, na kojem ih je vidio Steve Lamaq… i dalje je sve poznato.
Najizraženiji dio ovog benda, a koji će vjerojatno s vremenom postati "trademark", je vokal pjevača "afro-britanskog" porijekla (valjda se tak veli, bez uvrede) imena Kele Okereke. Upečatljiv vokal nalik na Robert Smithov s Mark E. Smithovom naracijom, u većini pjesama samo izvikuje stihove - parole, bez previše povezanosti i smisla.
Pričati o uzorima i utjecajima ovdje je nepotrebno, jer čim su spomenuti FF kao referenca, netreba dalje nabrajati. Između ovih 13 pjesama naći će se bar toliko singlova koliko su i FF dosad skinuli sa svojeg prvijenca, počevši od zarazne diskoidne Like Eating Glass, preko starijih "cureiziranih" favorita Banquet i She's Hearing Voices, pa romantične This Modern Love, novog singla So Here We Are do završne Compliments.
Vrijeme će pokazati da li će se uspjeti održati, oni i slični, u surovom glazbenom biznisu, a do tada treba ih slušati do iznemoglosti.
ocjena albuma [1-10]: 8

pedja // 28/02/2005