U petak 25. studenoga će se u zagrebačkoj Jabuci u sklopu programa Dark Side održati večer posvećena alter rock legendama Pixies i to povodom promocije njihovog novog albuma "Head Carrier" (Pixiesmusic/PIAS/Dancing Bear).
Pixies su osnovani 1986. u Bostonu i jedan su od najutjecajnijih i najpopularnijih alter rock bandova na svijetu, a njihov prvijenac "Surfer Rosa" iz 1988. godine s hitovima "Gigantic", "Where Is My Mind?", "Bone Machine", jedan je od najbitnijih albuma za tadašnju novu post punk grunge scenu. S idućim albumom "Doolitle" iz 1989. godine postižu svjetsku slavu zahvaljujući hitovima "Monkey Gone To Heaven", "Debaser", "Here Comes Your Man", a koji se i dan danas vrte na mnogim radio postajama i partijima širom svijeta. 1990. godine Pixies objavljuju album "Bossanova" s hitovima "Velouria", "Dig For Fire", "Is She Weird", "Cecillia Ann", a 1991. godine album "Trompe Le Monde" s hitovima "Planet Sound", "Alec Eiffel", "Letter To Memphis" i "Head On" (u originalu od The Jesus & The Mary Chain). 1993. godine Pixies prestaju s radom, a čalnovi se posvećuju solo karijerama u čemu je najuspješniji frontman i autor većine pjesama Frank Black i basistica Kim Deal sa svojim bandom The Breeders u kojima je ona lead vokal i svira gitaru. 2004. godine se Pixies ponovo okupljaju, snimaju novi singl "Bam Thwok" i kreću na svjetsku turneju koja je u većini gradova bila rasprodana u rekordnim rokovima. 2014. godine izlazi novi album "Indie Cindy" koji je u biti kompilacija ranijih EP-a pod nazivima "EP1", "EP2" i "EP3". 30. rujna 2016. izlazi novi, šesti studijski album Pixiesa pod nazivom "Head Carrier" na kojem svira i pjeva nova basistica Paz Lenchantin. Album je producirao Tom Dalgeti u londonskom RAK studiju. Na albumu se nalazi dvanaest novih pjesama sa singlovima "Um Chagga Lagga", "Talent" i "Tenement Song".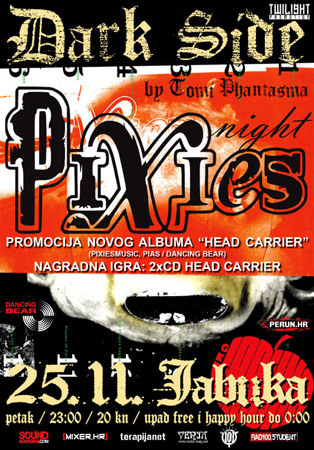 Nakon preslušavanja albuma "Head Carrier" slijedi audio video retrospektiva Pixies radova do 01 sat iza ponoći kada će uslijediti izvlačenje dva dobitnika koji će osvojiti primjerak novog albuma Pixies "Head Carrier". Za učestvovanje u nagradnoj igri je potrebno uzet kupon za nagradnu igru prilikom kupnje pića na šanku kluba i biti prisutan prilikom izvlačenja.
Nakon Pixies seta slijedi Dark Side party gdje će Tomi Phantasma vrtiti sve mračne hitove od osamdesetih do danas; Bauhaus, The Cure, Siouxsie & The Banshees, David Bowie, Iggy Pop, Red Lorry Yellow Lorry, The Cult, Christian Death, The Sisters Of Mercy, Fields Of The Nephilim, Virgin Prunes, Mizar, EKV, Clan Of Xymox, Cassandra Complex, Echo & The Bunnymen, Violent Femmes, Nick Cave, Jesus & Mary Chain, The Cramps, The Smiths, Depeche Mode, Ultravox, Simple Minds, Human League, Laibach, DAF, Nitzer Ebb, Die Krupps, Front 242, Borghesia, Diva Destruction, Roseta Stone, Heroes Del Silencio, Nine Inch Nails, Marylin Manson, Placebo, London After Midnight, Editors, Love Amongst Ruin, Interpol, Covenant, White Lies,...
Vrata Jabuke se otvaraju u 23 sata, do ponoći je ulaz slobodan i happy hour na šanku, a nakon ponoći se ulaz plaća 20 kn.
Dobrodošli!
promo girl // 20/11/2016