Na ovogodišnjem, jubilarnom destom bikerfestu "10. Days OF Fire" u organizaciji MK Fire Group iz Ivančne Gorice koji će se održati 8. i 9. svibnja na sportskom aerodromu u Šentvidu Pri Stčni, naselju udaljenom oko 20 km od Ljubljane (iz smjera Zagreb oko 20 km prije Ljubljane) će kao headlineri u subotu 9. svibnja nastupiti britanske punk rock legende Anti Nowhere League. Pored Anti Nowhere League će nastupiti i zagrebački old school punkeri Eksodus, gothic metalci Asylum iz Vodica te slovenski bendovi Krema, The Closhars, Vikend panksi, BTK i Lene kosti.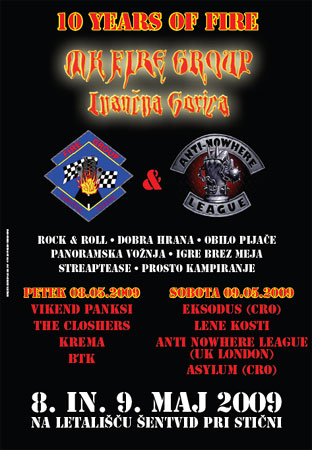 Pored koncerta će se naravno održati još cijeli niz događanja specifičnih za bikerfestove poput raznih natjecanja sa motorima, igre bez granica i nezaobilaznog striptiza. Na ovom bikerfestu koji slovi za jedan od najvećih bikerfestova u Sloveniji je osigurano mnoštvo štandova sa hranom, pićem i raznim suvenirima, nakitom, majicama,….kao što je osigurano i slobodno kampiranje.
Zanimljivo je da je ulaz slobodan tj. besplatan za sve posjetitelje što će zasigurno obradovati mnoge u ovoj kriznoj situaciji. U slučaju kiše osigurana su dva ogromna šatora koja primaju po nekoliko tisuća ljudi što znači da će se manifestacija održati bez obzira na vremenske prilike.
promo guy // 06/05/2009