12.3. petak
ROCK TE JEBO! - Đubrivo/No More Idols/Bezzvuka
ULAZ:20 h
UPAD:40 Kn
HAPPY 2 HOURS 21:00-23:00 --- 3 MEDICE = 10KN
Pozivamo Vas na spektakularan punk koncert na kojem predstavljamo naše ponajbolje punk bendove!
Đubrivo
Svima nam dobro poznati pankrok divljaci o kojima ne treba previše drobiti nego samo doći i ugostiti ih u prostoru našeg velebnog kluba!
No More Idols
Divljaci iz kvarta, nepogrešivo! Nismo ih vidjeli neko vrijeme, trudit će se sigurno! Inače, sviraju pank.
Bezzvuka
Pank četvorka iz Zagreba s nježnim vokalom ganut će svako spajksrce!
U igri su, naravno, još i karaoke te standarna slušaona s rock plesnjakom i punk/metal pogo!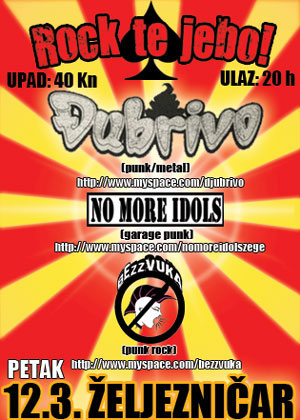 Ako ste željni i ostale glazbe puštamo još i The Beatles, Chuck Berry, The Rolling Stones, Led Zeppelin, Dire Straits, Jimi Hendrix, Stevie Ray Vaughan, Guns N' Roses, Prljavo Kazalište, EKV, Damir Urban, Billy Idol,, Hladno Pivo, The Ramones, Misfits, Six Pack, Đubrivo, Flogging Molly, The Exploited, Korn, Deftones, Black Sabbath, Iron Maiden, Pantera, Sepultura, Slayer, Children Of Bodom, In flames, Cannibal Corpse, Cradle Of Filth, Decapitated, Meshuggah, Fear Factory, Slipknot...
13.3. subota
FOREVER YOUNG - The 80's Party by Dj Adam
DURAN DURAN PARTY
HAPPY 2 HOURS 21:00-23:00 --- 3 MEDICE = 10KN
ULAZ:21 h
UPAD: 15 Kn do ponoći, poslije 20 Kn
Simpatični mladi, ali provjereni DJ Adam Melkor ove će subote otopiti sva 80s nostalgična srca! Na repertoaru: Depeche Mode, Nitzer Ebb, OMD, INXS, Classix Noveaux, A Flock Of Seagulls, Joy Divison, Sisters Of Mercy, Alphaville, Ultravox, Nine Inch Nails,... Ako volite ponešto od navedenog ovo je prilika ravna besplatnoj karti Dinamovog sjevera!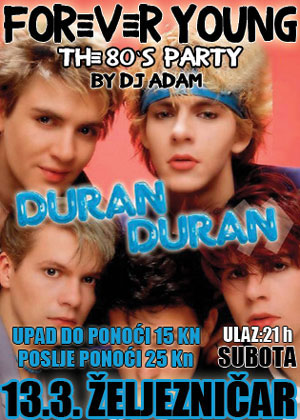 Nitzer Ebb, OMD, INXS, Classix Noveaux, A Flock Of Seaguils, Joy Division, The Sisters Of Mercy, Dead Or Alive, Tommi Stumpff, Alphaville, Camouflage, Ultravox, Tears For Fears, New Order, Soft Cell, Real Life, Front 242, Nine Inch Nails, Pat Bennar, Eurytmics, Die Krupps, Simple Minds, Skinny Puppy, Duran Duran, Gary Numan, The Cure, Madness, Blondie, Yazoo, Falco, Beriln, Nena, Spandau Ballet, Billy Idol, Kim Wilde, Madonna, Men At Work, Ramones, Roxette
promo guy // 08/03/2010