I rarely dance.
I mean... I do move to the music appreciating it with my body but I would be hard pressed to call that dancing. Somehow I feel true that I enjoy it more "from the inside" then it could be appreciated by watching me do it. I have previously been complimented on my dancing but, considering context of those compliments, I ruled that there cannot be lot of authority in those assessments. Or should I say ASSesments lol.
I went to see live gig yesterday at Tvornica; Plastic Knives, Rens Argoa and Portman. I could not believe my luck that this gig is happening on my "weekend off", when my offspringess is at her father's. Sometimes having this "me time" really feels like being off the leash. But I digress. Anyway, another ticket bought through Entrio (I love that service), got all dressed up to show off my brand new boots and then spent half an hour driving around the block in search of a parking spot. When I was almost at the end of my patience a spot appeared right across the street from the venue.
It's all in the good omens.
Got in, bought beer and
Plastic Knives
started to play.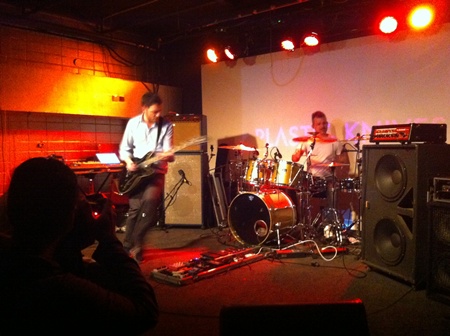 Plastic Knives © derza
There was just this one tiny moment, just in the start itself, when they started to play and after half a line music momentarily stuttered, just like the performers have startled themselves by loudness of their music (like a shifting reference frame) and from that moment on everything (and I mean everything!) was perfect. I made a few photos with my phone and I stood there completely in awe. At some point I got out my phone and typed short text exchange: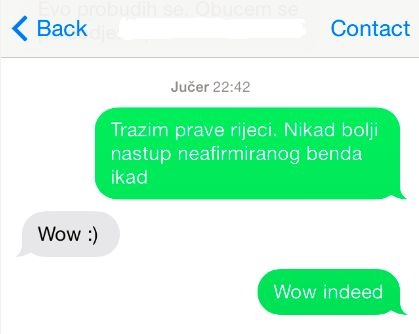 And I stood there, mesmerized, thinking:"This is how I look like, when dancing, to other people. Like a sloth on speed - with exactly zero natural grace." but the music was beyond amazing and Damjan and Nikola's musician chemistry was amazing and the shitload of doodahs and doohickeys on the floor around Damjan added and subtracted sounds and loops and delays and it was un-fuckin-believably good! Fresh and potent and so much more alive than on the albums (which are also awesome and you can sample them on their bandcamp page).
Then they were over. It was a performance so amazing I cannot stop talking about it.
And then there was a longest pause between two bands in the history of multiple-band performances. Gazzilion things were subtracted from stage set and some were also added. I drank lot of water, got myself another beer and stood there, in the front row, while overdressed, weird-smelling guy pitched himself to two very petite girls, unsuccesfully.
Rens Argoa
finished setting up and started to play.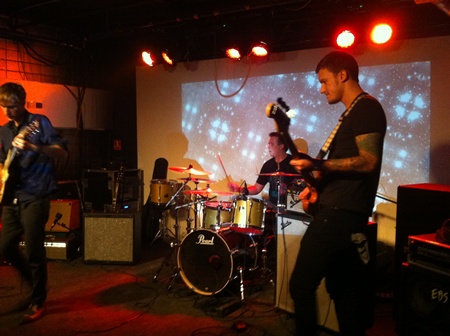 Rens Argoa © derza
I've already seen five of their live gigs and all of them were one better than the next. They are, by far, domestic music act I listen to most at home. They are in my top 5 most listened to artists overall. This gig was no different, delivery was just as beautiful as expected: relaxed, professional, rehearsed to perfection, adding flare of impeccable live act to familiar sounds from the albums. I always take a peek if the drummer started wearing shoes while playing but no - all is well with the world. They played some new stuff and some old ones and for most of it I just forgot myself and danced, danced, danced in my new boots. A guy from the middle front row came and said:"I'm holding a spot for you there." and I smiled and blushed and just kept on stomping there where I stood. Muscles felt supple and strong, boots fitted perfectly, music flowed like thunderous whitewater.
And then there was
Portman
.
I already wrote about them a bunch of times and have seen several of their shows and whenever I see announcement of their gig I try to go and see them again. And again. And AGAIN. They are that good.
They are also very appealing to see.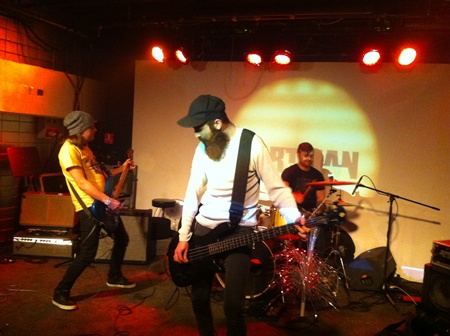 Portman © derza
Thanks to some unknown reason there were two metallic foil fringe bushes decorating the drum set. Ivan always looks like the force that takes care of operational details, guitar guy felt like he spent quite a deal of time dressing up for the occasion with his Jethro Tull T-shirt and slouchy hat and frontman was so overwhelmingly relaxed, with his aura of not giving a ... care.. and this awesome black matt bass. That must be the single most beautiful bass I have ever seen, pulling the light into itself as a black hole.
This guy is just so cool it is beyond comparison. I love that.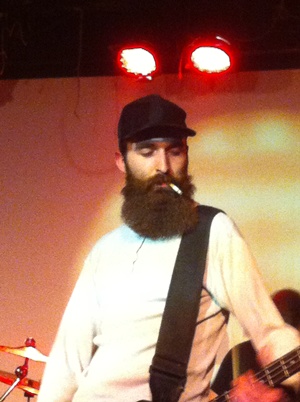 Slaven Jedvaj (Portman) © derza
The music was alive and strong and uncompromisisng, leaving no space for dilly-dallying. When I listen to their music at home I find it very melodic and very math-defined deliberate. I find it precise and spaced in time intentionally and measured, like crop circles. But on live gig it feels like a wild animal attacking you - it may still be measured and precise, but there is no way of noticing that considering how strongly it advances.
The three performances we saw during this concert night were so excellent, each in its own right, it felt like I attended three full gigs. Absolute awesomeness.
derza fanistori // 18/01/2016
PS: Originally published on
Kaleidoscope Situations blog
.