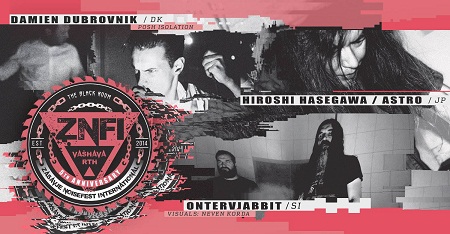 Kino Šiška and the Infundibulum Association, alongside Sound Chambers and Delavski dom Trbovlje, are celebrating the upcoming 5th edition of the Zasavje Noisefest International (ZNFI 2018) festival of experimental music and noise with a pre-festival event that will rattle the heavens.
Damien Dubrovnik
is the Danish duo of
Christian Stadsgaard
and
Loka Rahbek
, the cofounders of the Posh Isolation record label in Copenhagen, who were a key part of the evolution of the rich noise and punk scene in the city. Through the years, Posh Isolation gained acclaim abroad as well, becoming one of the better-known labels for such music, from experimental derivatives to industrial, noise, etc. With over 150 releases, the label has attained cult status and devoted supporters.
In addition to other collaborations, Stadsgaard and Rahbek are active primarily as Damien Dubrovnik, famed for the rawness and intensity of their live performances, as well as the expressiveness of the vocalist onstage. They intertwine various elements, from a harsh industrial sound, enhanced by poetic ambiance, to more performative elements in the sense of body performance and body acoustics.
Hiroshi Hasegawa (Astro)
is a legendary Japanese noise musician, who began making music in the early 1980s through vocal experimentation and percussive instruments. In 1989, he founded one of the more recognisable noise groups,
Cosmic Coincidence Control Center
, whose main idea lay in massive noise improvisation, supported by the loudest possible volume. Since 1993, Hasegawa also makes music as Astro.
Hasegawa's qualities lie in his systematic and persistent approach, as is work can be found on countless releases, compilations and collaborations all over the world. He first played in Slovenia at ZNFI 2015, and we can again expect pure cosmic noise pleasure that isn't to be missed.
Ontervjabbit
are ZNFI organiser
Neven M. Agalma
and
Domen Učakar
. The long-time friends joined forces, unstoppably carving a path across the noisescapes since 2012 as one of the leading local noise acts. This time, they'll unveil a piece of their May 2018 release Torture Garden, a massive sonic compendium created after reading the 1899 book of the same title by
Octave Mirbeau
.
The album, first conceived in 2016, includes several guests, with the audio-visual live presentation joined by Neven Korda, a video artist famed for his work in the FV 112/15 theatre group, the independent FV Video production company in the 1980s, and Borghesia, where he was responsible for the concert visuals and music videos. Together with Ontervjabbit, he will be in charge of the visual aspect of the album.
The concert ticket includes free admission to one day of the ZNFI 2018 festival (8th or 9th June). Tickets on sale online and at Eventim sales outlets.
FACEBOOK EVENT:
https://www.facebook.com/events/163154441024693/
ZNFI FB PAGE:
https://www.facebook.com/ZasavjeNoisefestInternational/
promo guy // 31/05/2018