Iranian progressive-metal band
Atravan
give us first interview for Croatia and Europe. He released excellent debut album "
The Grey Line
"
www.terapija.net/mjuzik.asp?ID=30371
after 10 years career. About album, condition on the modern rock scene of Iran and other post-war stuffs in this big country (Iran have 82 millions citizens) we talked with our faraway brothers and sisters from Central Asia. Persia and Mesopotamia is the cradle of Europeans. Band have great vocal
Masoud Alishahi
, beautiful woman
Marjan Modarres
on keyboards and 3 very good musicians:
Arwin Iranpour
(bass),
Shayan Dianati
(guitar) and
Shahin Fadaei
(drums). Plebeians in Europe still think Middle East and Iran is a backward country. Are you sure? If you have not listened "The Grey Line" album, you will remain plebeians. And, you will learn something very important - inspiration and concept from book ''
Blindess
'' by
José Saramago
. I have to point out to you that their culture writes a lot of things with Big Character. I had trouble with little and big character, that's very, very impressive culture. Not like west European plebeians. Unfortunately…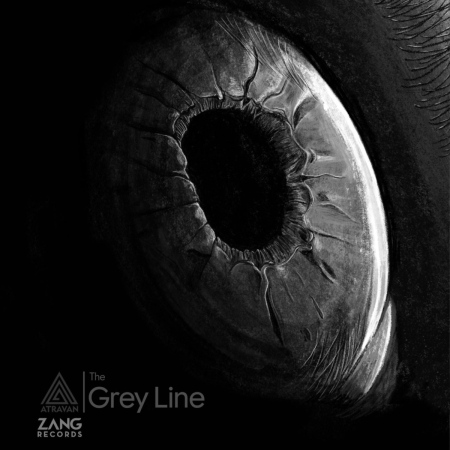 First, clarify the meaning of the name Atravan ...
ATRAVAN: In old and ancient persian culture and history, ATRAVAN was
the Protector of the Holy Fire
and their duty was to keep the fire burning, never let it to be shut down.
What is the attitude of public opinion and Islamist society towards rock in Iran? We here in Europe maybe probably wrong informations that you are a closed and conservative country like Saudi Arabia ...
ATRAVAN: In the recent years many things changed here in Iran. For example we had rock and metal concerts with the permission of the government (because everything related to art, needs a licence or permission by the government), as the time went by, the culture of respecting each other grows between both rock music fans and also between other people who does not listen to rock music, and it got better through the years comparing to, for example, 15 years ago. But nowadays, I can say it's not in a good situation.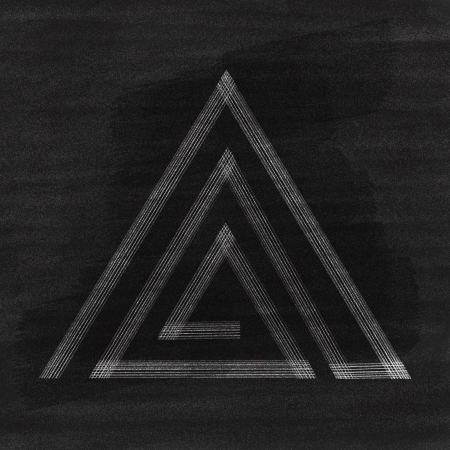 Given the information, it is strange to us Europeans that you have a woman in the lead role - on keyboards, Marjan Modarres. By the way, did you know that Marjan (or Marijan) is a common Slavic name? It can be both male and female ... How are women treated in rock in Iran? Do you have problems because of your freedom?
ATRAVAN: We didn't know that Marijan is a slavic name and thank you for letting us know. Again, through the years, the approach to women as musicans changed. Now we have women behind drums, guitars and bass guitars, keyboards and pianos that they can play live and have a career as a musician. We have even women as singers or in choir groups or back vocals. But still women musicians have many issues for performing or having a concert because they can't have a lead role in a concert.
You've been together for a long time ... Say something about your beginnings and the very idea for the band.
ATRAVAN: At the very beginning it was just
Shayan
and
Marjan
, then
Shahin
joined us and then
Masoud
joined the band. We've changed various bass players during these 10 years until we found
Arwin
who is one of the great bassists we've ever seen.
We were 5 people with different tastes in music
. But when it comes to making and writing a music, that part doesn't really matter and we bring our own different styles into the music and the combination is what you can hear through the new album cause we wrote the album completely with improvisation. Then we got the ideas and compose them to get the first skeleton of the music. We may get inspiration from our idol bands or our favorite music but we always tried to create a unique sound that belongs to our band.
Were you affected by the socio-political situation?
ATRAVAN: When we started writing the album, things were different but as we finished writing, things changed. Rock artists didn't get to have any more concerts and the again all those rock musicians, started to go on as a
underground musicians
.
What is your status? Do you have a job, what do you do besides music?
ATRAVAN: Beside being a musican we all have our own jobs which is not related to music because you can't make money here out of writing music or to have
just 4 concerts in a year
, specially when it comes to rock genre. Completely opossite of the world wide musicans, as they take long tours so they can make a living. But we do work
as musicians
or
session players
or
musical instrument tutors
.
The debut album "The Grey Line" ... Covid-19 came at an unfortunate time, however, it radiates optimism. So you created it before this world crisis?
ATRAVAN: We started to write the first materials of the album 3 years ago. But we went through unfortunate events during these 3 years. We changed a bass player, which then Arwin came in. Our first mixman,
Hadi Kiani
couldn't mix our album after 9 months because he got involved in a migration plan for himself so we had to find another one, which leads us to
Ehsan Imani
. Then the Covid came in which prevented us from holding a release session with our fans here in our hometown.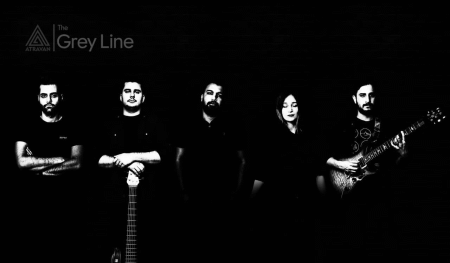 Atravan © 2021
Many references of Pink Floyd and Tool, progressive-rock and metal can be heard on it ...
ATRAVAN: Well obviously because we are huge fans of
Pink Floyd
and
Tool
. Specially on keys which you can hear a Floyd vibe and of course on drums. You can hear the influence of Tool. Beside those, we are all huge fans and listeners of progressive rock and metal music so it will effect the music that we write.
You have, for a metal band, an unusual sound. Shayan Dianati's guitar does not play typical riffs, but staccato and solos, and I saw that you also performed at Pink Floyd events ...
ATRAVAN:
We don't see ATRAVAN as a metal band
, but definetely we use some elements of metal music, although comparing to the previous songs that we've released before ("
Ocean Of Sorrow
", "
Salvation
", "
Man With No Dream
", "
Paradise Lost
"), in ''
The Grey Line
'' you can hear more metal vibes which at the beginning of writing the new album we decided to sound a little bit different comparing to the previous songs, more active and more metal.
That Pink Floyd event was hold about 7 years ago which Masoud and Arwin were not with us, and we did it with a guest vocalist. But the result is not something that we are proud of, we didn't have any experience in recording and the final sound is not an ideal sound for us.
Your lyrics are very impressive, melancholic and sensible, they don't have the typical metallic 'cry/ screams' of doom and frustration. Is it because of possible censorship? Or your desire for commercial success?
ATRAVAN: We were never into the typical cry/screams kind of lyrics. We tried to talk about the effects of media in our lives, about what happen after a war, or we got inspired by a book named ''
Blindness
'' by
José Saramago
, we tried to talk about real world events. Before that in previous songs, we talked about personnel stuff but in this one we wanted to talk about more sociable events.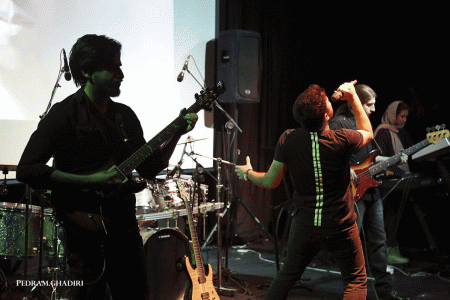 Atravan © Pedram Ghadiri
You still don't have a YouTube video from "The Gray Line" album. I freely assumed that "Dancing on a wire" was an adequate hit. It bounces off all the material ...
ATRAVAN: Currently we are working in a video clip for one of our songs and it's in the final steps of production. We had many ideas for video clips for each song but because of the high price of production we couldn't make it happen as we don't have a sponsor. ''
Dancing on a Wire
'' is our
first love song
which is about a lost love, when we were writing the track we imagined two cliffs with two people on each side connected with a thin wire, and to get to the other side you have to walk on the wire which needs to take the risk of falling down, and in our imagination, he/she fell down from the wire.
Keyboards and synth are the basis of your structure. You have used a lot of melodies, the listener would think that when the introductory "The pendulum" starts, he will get an electronic rock album ...
ATRAVAN: The '
Intro
' and the '
Outro
' of the album were two last songs which we wrote in our home studio and we wanted them to be a little bit different, more electronic with less guitar riffs. The atmosphere of ''
The Pendulum
'' and ''
Uncertain Future
'' is different than the whole album with some progressive elements and also as you've mentioned, with an electronic sound.
The story of "The perfect stranger" ...
ATRAVAN: This song is the first song which we finished writing, it is the first song we've recorded and the only single from the album which we released earlier than the album. It is about the
struggle
in our daily lives against the media and its
brainwashing
wave in our lives, about how we are all involved with our phones and social medias and how our life is passing without a deep understanding of its meaning.
Is "My wrecked house" a ballad?
ATRAVAN:
If by ''ballad'' you mean a love song, no it's not
. But if you mean if there is story behind the song, we wrote the lyrics inspired by a book named ''Blindess'' by José Saramago, we didn't get the whole concept from the book but we tried to conform it with our today's lives.
"Vertigo" reminded me of Duran Duran's hit "Come undone". Have you ever listened to them? Or is this completely coincidental? Masoud Alishahi is vocally very reminiscent of Simon le Bon ...
ATRAVAN: We didn't even ever heard the name of the band but we will give it a try to listen to the music of the band that you mentioned. ''
Vertigo
'''s first version was written by Shayan (our guitarist) and it was instrumental, and then when he brought it to the band, we've changed some parts and tried to make it better.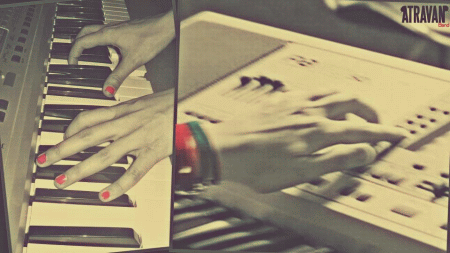 Atravan - fingers of Marjan Modarres © 21st century
The title track "The grey line" is in my opinion the highlight of the album. In that song, you show all the excellent qualities of Tool, and Masoud is even better than Maynard. What exactly is the song about? And why didn't you fit more moments like this into the album?
ATRAVAN: Well I think it's too much that you are comparing us with a monster band like
Tool
or
Maynard
and
thank you for it
. The lyrics of the song is telling the story,
we wrote the song about post-war events
, that how war will effect our lives right after where it ends. We are telling that the
final winner of that battle, are not humans
, but is the War itself. We described the bombs as the second sun burning down our cloudy skies, we describe the commandors as drovers who are
leading the lambs which are the soldiers
. As I mentioned before, we wrote the album in an experimental way, that we went to studio and we improvised or we brought some ideas that we wrote through the week and then we worked on them, all of us, in the studio while we were with our instruments so the process was live. After the writing process was finished, the composition part was almost over and we didn't change anything while we were recording the album. We worked to have better sounds but the composition stayed loyal to the rehearsal sessions.
Masoud. Has he sung somewhere before? He has a powerful voice.
ATRAVAN: I believe Masoud started his musical carreer with us, since 8 years ago but through all these years he tried to work with other musicians and other bands. But I remember the first time we heard his voice, we knew that he was going to be
Our Voice
. He has his own signature in singing which you can say he is a mixed voice of many great vocalists like Maynard from Tool,
Ivan Moovy
from
FFDP
, he even sings distorted vocals same
Randy Blythe
from
Lamb of God
, so I can say he is a
very talented musician
.
Is it possible to make a living from rock / metal music in Iran? You are a huge country ...
ATRAVAN: Since now
it was hard to make a living from music
. Until you're a mainstream pop artist that can work with mainstream labels which leads to have huge concerts but if you're not a mainstream artist, it would be hard to make a living specially from rock and metal music which has its own limits here.
Thank you so much for this interview!
ATRAVAN: Thank you so much and we're glad you liked our album.
I hope we start the process of our 2nd album as soon as possible
. The feedbacks of ''The Grey Line'' really gave us such positive vibes and I hope we hear more feedbacks and reviews. The more our album got heard, the more we are satisfied with it. Thank you for your time.
horvi // 21/02/2021