T. Naelc Wonk?
K. Naelc wonk je u biti svojevrsna obrtaljka naelc=clean, wonk=know, ostalo je vaša slobodna interpretacija, hehe. Inače, sviramo već nekih 5 godina, u tome periodu smo odsvirali 20-tak koncerata, snimili jedan demo, upravo snimamo drugi. Bend čine 2 cure i 2 dječaka: GABI-bas STRUJA-vokal, GIC-gitara i KIKI (ja)-bubnjevi. Bilo je dost promjena unutar benda, koje su nas dosta kočile (pa nismo dosli na par koncerata po Sloveniji, zbog čega mi je iskreno žao), ali sada stvari idu na bolje. Uglavnom u bendu svi radimo, prosječna starost 25g.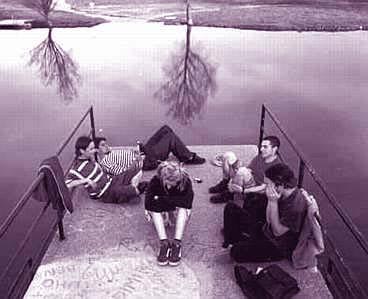 NAELC WONK
T. Uzori?
K. Pa, svi slušamo dosta različitu glazbu, recimo od old school/new school bendova tipa IGNITE, GOOD CLEAN FUN, CONVERGE, SNAPCASE, EARTH CRISIS, pa malo metala IN FLAMES, AT THE GATES, panka BOY SETS FIRE, HOT WATER MUSIC, nu metala S.O.A.D., SLIPKNOT, ONE MINUTE SILENCE, etc. Znači uzori su raznoliki, a samim time i naša glazba.
T. Demo cd?
K. Snimili smo taj cd od 9 stvari -d.emo.d- još 2000-e godine eto sada snimamo novi.
T. Internet?
K. Šta da ti kažem o tome, da ga nema, ne bismo stupili u kontakt, he-he. (A NAELC WONK na netu možete pronaći na adresi http://free-ka.hinet.hr/naelcwonk/ - op. pedja)
T. Planovi?
K. Uglavnom skromni kako i dolikuje bendovima na ovim prostorima, dugo već sviramo i po drugim bendovima tako da znamo što je to udisanje prašine, u svakom slučaju planiramo taj novi demo negdje i izdati, odsvirati što je moguće više koncerata (25.04. u zagrebačkom ATTACK-u), putovati, dobro se zabavljati.
T. Poruka?
K. Pa, nisam baš neki Mesija, treba intenzivno proživjeti svaki trenutak u životu da čovjek kasnije ne žali, vremena je malo, ostvarujte svoje snove!!
T. Kontakt adresa?
Kristijan Galetic, Masarikova 7, 47000 Karlovac, HR MOB:098 1628844
e-mail:naelcwonkile@yahoo.com
pedja // 03/03/2003