Drugo gostovanje beogradskih folk amerikana ON TOUR prošlo je u domaćoj i opuštenoj atmosferi pred ugodno popunjenim KSETom. Prethodnicu su im održali THE MARSHMALLOW NOTEBOOKS, s kojima nikad ne znaš u kojem će se sastavu pojaviti. Ovaj puta su u sastavu Matija, glasom i gitarom, i Vlado, također glasom i "stand up" bubnjem, pružili kratku podršku Ivani, Vladimiru i Marku.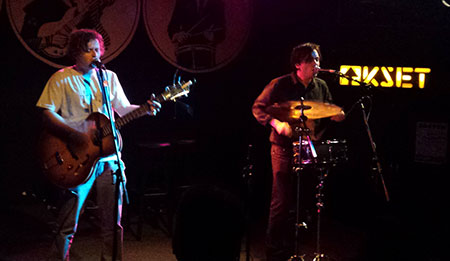 the marshmallow notebooks © pedja
Zajedno je te večeri bilo pet svirača, a na stejdžu ih je u istom trenutku bilo najmanje dva, a najviše tih pet. Pa krenimo redom. Matija i Vlado te večeri svirali su samo hitove, kako je Matija rekao, što starijeg datuma (Pictures, Train Ghost), što novijeg, a sve kako bi naveli ponekog kupca da kupi raritetne cdr-ove iz bogatog opusa Marshmallowa, koje su prodavali po 100 kn. Naime, netko im je nedavno ukrao sa štanda 18 Noisy Night majica, pa su time htjeli pokriti razliku u proračunu. Na Well im se pridružila Ivana, na You Can Tell Me Lies i Summer, Marko na mandolini i cjelokupan hepening je prolazio s osmjesima na licima i zajedničkim pjevanjem, i onih na stejdžu i nas u publici. Vineyard by the Sea trebala je biti zadnja njihova pjesma, međutim gromoglasan poziv na bis natjerao ih je natrag i tu smo još dobili I'll OK It i obradu Violent Femmesa I Held Her In My Arms.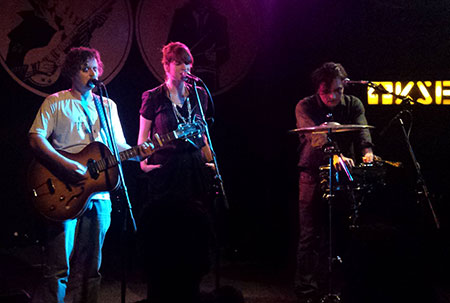 the marshmallow notebooks + ivana © pedja
Uslijedila je kratka pauza, na stejdžu su se pojavile tri barske stolice, mandolina, akustična gitara i tri mikrofona. Za one koji to još možda ne znaju, ON TOUR su krenuli kao side project članova nekih drugih beogradskih bendova, da bi nakon dva albuma skoro pa prerasli matične bendove. U KSETu su promovirali album
"Folkrock"
s kojeg su odsvirali sve pjesme, ali nisu ostali dužni ni prvom albumu
"On Tour"
, pa su i s njega odsvirali sve pjesme, uz nekoliko Van Zandtovih obrada.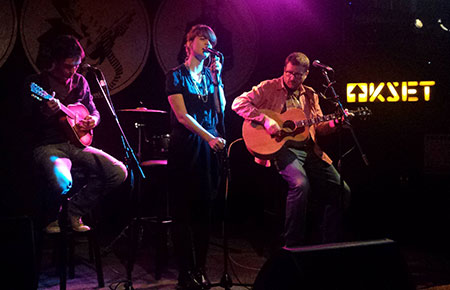 on tour © pedja
Započeli su s novom Who Do You Love, nastavili s Breaking Free i By the Sea, a atmosfera je sve više rasla. Opuštenost, dobacivanje i razgovori između pjesama doveli su nekolicinu odostraga do krivog zaključka, da mogu glasno pričati i za vrijeme pjesama, no to je boljka o kojoj stalno pišemo, pa je neću previše naglašavati.
Vladimir i Ivana se vokalno izvrsno nadopunjuju u milozvučno suzvujče, a mandolina i akustična gitara daju taman dovoljnu i zanimljivu podlogu. Ponekad se tu ubaci usna harmonika, ponekad Ivana uzme def ili melodiku da malo pojača doživljaj, a ponekad, kao u ovom slučaju pojave se i gosti na bini. Tako im se na Whiskey & Wine pridružio Vlado, kako je sam rekao "da im pokrvari svirku, jer su bili predobri". Skoro mu je u tome i uspjelo, ali srećom nije. Matija im se svima pridružio na Penny for your Thoughts, pa su s dvije gitare i bubnjem zazvučali onako, rockersko bendovski i nadam se da će im pasti na pamet ponoviti ovako nešto u budućnosti.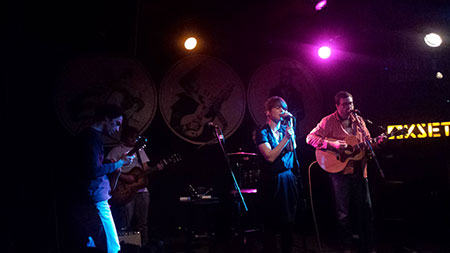 on tour + the marshmallow notebooks © pedja
Kad su se Matija i Vlado spustili, On Tour su nastavili u svom stilu prekopavanjem po albumima, a onaj oficijelni dio završili su s Broken Teardrop i pjesmom koja mi je tu večer digla na vrh vrhova. Why not Your Baby, kako sam kasnije saznao, otpjevali su davnih šezdesetih Dillard i Clark. Preslušavajući je kasnije kod kuće, mogu samo reći da original nije ni do koljena Ivaninoj izvedbi. Ježim se i sad kad to pišem, a riječi
Why don't you call me your baby anymore
Am I so changed from some strange love that went before
Is this the change of mind that I've been designed for
Why not your baby anymore
već danima ne izlaze iz glave.
Na ovom linku
možete čuti njihovu verziju s jednog od koncerata, a samo zamislite kako ju je slušati uživo.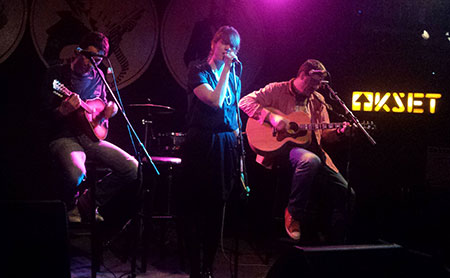 on tour © pedja
Kako bi odsvirali sve pjesme s oba albuma, odsvirali su na bisu još Arrows i See Us Through, te za kraj Van Zandtovu No Place To Fall, i završili taman koju minutu prije ponoći, te time zatvorili jednu savršenu proljetnu večer u kojoj je bilo puno asocijacija na ljeto.
pedja // 31/05/2015