Meni je naša publika totalni fenomen! Manje više bilo tko da zasvira kod nas poslije uvijek govori kako je upravo svirao na najboljem mjestu na svijetu (ustvari, vjerojatno svi osim 50 centa:). Tako da iznimki nije bilo ni sa Bishop Allen-om koji su zasvirali u KSET-u. Uopće se nije mogao steći dojam da svira jedan mali, nadolazeći, iako genijalni, new yorkški band. U najmanju ruku po euforiji je izgledalo kao da sviraju Beatles-i u Cavern Club-u. A to je zavšilo tako da su nakon koncert neki načuli bend kako prije ulaska u kombi govori "This is unbelievable! I can't wait to get back here!".
Bishop Allen © Ivana
A sam koncert je stvarno bio odličan! Točno po našim očekivanjima, Bishop Allen su sa svojim indie popom rasturili. Od silne muzike koju su u ovih par godina napravili, naglasak je ipak bio na odličnom zadnjem albumu "The Broken String" od kojih su najbolje zvučale "The News From Your Bed", "The Monitor" i "Corazon". Taj trud benda je zavšio tako da je po starom KSET-ovskom običaju publika doslovno "zarobila" bend, ne dopuštajući im da odu dok ne bude još jedan bis!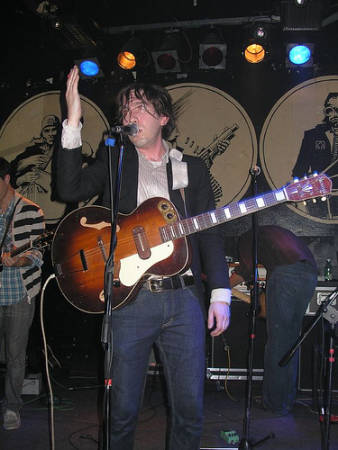 Bishop Allen © Ivana
Predivan koncert za kraj godine!
kris // 17/12/2007

> vidi sve fotke // see all photos