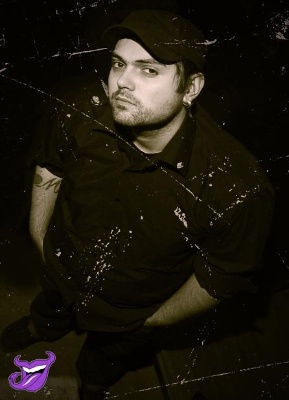 Tongue (Vladimir Bižić)
Pjesme o kojima čovjek ne zna što bi točno mislio. Gdje bi ih svrstao. Jednom se kreću u poznatim parametrima rocka, pop-punka - i tada to sve strši jedino po svojoj kvalitetnoj izvedbi. Dok se na drugoj strani pojavljuju neki sasvim neočekivani dijametralni preobrati, teški za definirati ali po kojima ovaj beogradski sastav na sebe skreće najveću pozornost. Sastav je možda malo pretjerana riječ, jer se ovdje sve vrti oko izvjesnog Vladimira Bižića kao jedinog autora ovih pjesama. Pjevača i gitariste, kojemu je potpora još jedino bubnjar i basista Vojin Kličković. Znači nije one-man project, ali niti bend u klasičnom smislu. Još. Nešto između, još u procesu nastajanja. Bižić iza sebe ima već dugogodišnju biografiju aktivnosti u hardcore-punk bendu Let's Grow kao gitarista. Ali ova njegova nova stranica je nastavak benda Wishingwell, gdje je djelovao kao pjevač i koji je prestao s radom nakon prerane smrti gitariste Srđana Pavkovića u 2005.
Razbrkane skice različitih ideja, ili se pak krije nešto više iza toga? Pitanje koje ovaj već drugi po redu kratki EP teško može u potpunosti razriješiti. EP "All Roads Lead To Me" je dio koncepta i zamišljene trilogije pod nazivom "A Night You'll Never Remember", čija dosadašnja dva dijela sadrže samo po tri pjesme. Previše za početak, premalo za kraj. Tongue obilježava prije svega koncizan i razrađeni Songwriting. Puno jači nego na prvom uratku. Pjesme su dobro zamišljene i detaljno realizirane, čije okosnice su melodične gitarske špure. Dok su tendencije u prvom prošlogodišnjem EP-u "Who Fired The Workers Of Happiness Factory?" jasno ka furioznom stoner rock i metal zvuku, ovaj drugi dio ima akcent na melodičnom punku, te brzim i kompaktnijim ritmovima. Međutim, to vrijedi samo za prvu "How You Made Me Feel" i zadnju "All This Warmth". Između njih je smještena u dosadašnjem kratkom opusu najneobičnija, a reklo bi se i zamašno eksperimentalna "Monster Walks The Summer Lake", gdje se Tongue okušavaju u psihodeličnim i ambijentalnim vodama. Puno toga ovdje djeluje kao Trial-and-Error igra, u kojoj je Bižić dao veliku slobodu svom kreativnom potencijalu. Ali i svom interesu za različite struje prvenstveno gitarske muzike. Pri tome se pokazuje kao iskusan igrač, s njuhom za punokrvne i stasite pjesme. Na drugu ruku, to sve rijetko, kao u gore spomenutoj "Monster Walks The Summer Lake", djeluje uistinu originalno i samo po sebi prepoznatljivo. Stječe se utisak da je ovim, namjerno ili ne, napravio hommage njemu dragim bendovima i stilovima. Doduše, na vrlo kvalitetnom nivou.
ocjena albuma [1-10]: 7

z. marković // 22/02/2013
PS: Download EP-a:
tongue.bandcamp.com