Iako je Neill Young trenutno sa svojim Crazy Horseom na "Alchemy" turneji gdje, u principu, promovira 2 godine stari album "Psychedelic Pill" i gdje btw za kojih 10-tak dana gostuje u Bečkoj gradskoj dvorani (Wiener Stadthalle, 23.7.2014), sasvim iz neba pa u rebra izbacuje novi album "A Letter Home".
Iako se o albumu i suradnji s Jack Whiteom već pričalo neko vrijeme ovaj "cover album" snimljen u Whiteovom studiju u Nashvillleu na "čudu od tehnike iz 50-ih godina" Voiceographu ipak je sasvim bez najave objavljen.
Voiceograph je zapravo prostorija, nešto veća od telefonske govornice, ozvučena samo jednim mikrofonom i s kojeg se direktno zvuk urezuje u vinil.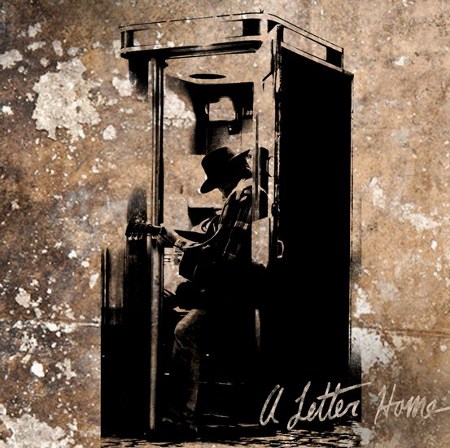 "Stari Shakey" je ušao u to oboružan drhtavim glasom, usnom harmonikom i akustičnom giotarom i snimio 11 covera u rasponu od Everly Brothersa do Bruce Springsteena. Na nekoliko pjesama možemo čuti i Jack Whitea na rasštimanom klaviru i na back vokalima.
Ovaj album je "stvarno" samo za fanove a za Jacka i Neila je to vjerojatno bila dobra zezancija. Ima album nekog šarma sa tim arhaićnim zvukom i silnim šuštanjem i krckanjem ali je u poptpunoj suprotnosti s Youngovim propagiranjem Pono Playera kojeg je nedavno lansirao kao konkurenciju iPodu i mp3 downloadima.
Ali, to je s druge strane opet Neil Young. Stari svojeglavi grintavac koji je uvijek slijedio svoj instinkt i zbog kojeg ga toliko i volimo pa ni ne sumnjam da će mnogi potegnuti do Beča i vidjeti ga u punom sjaju sa svojim ludim konjom. Iako nam stižu loše vijesti o srčanom udaru Billya Talbota, koncert nije otkazan. Talbota će zamijeniti Rick Rosas a karte još uvijek možete nabaviti preko eventima ili direktno kod musicticket.at. KEEP ON ROCKIN' IN A FREE WORLD !
ocjena albuma [1-10]: 5

le figuar de kranque // 07/07/2014
PS: TRACKLIST JE SLIJEDEĆI:
01. A Letter Home Intro
02. "Changes" (Phil Ochs)
03. "Girl From The North Country" (Bob Dylan)
04. "Needle of Death" (Bert Jansch)
05. "Early Morning Rain" (Gordon Lightfoot)
06. "Crazy" (Willie Nelson)
07. "Reason to Believe" (Tim Hardin)
08. "On The Road Again" (Willie Nelson)
09. "If You Could Only Read My Mind" (Gordon Lightfoot)
10. "Since I Met You Baby" (Ivory Joe Hunter)
11. "My Hometown" (Bruce Springsteen)
12. "I Wonder If I Care As Much" (Everly Brothers)