Teško bi se samo nakon preslušavanja ovog debija švicarskog trojca dalo zaključiti da su to vrlo mladi momci, takoreći još tinejdžeri. Barem tako izgledaju na promo fotosu, no sviraju strastveno, uigrano, ponekad čak i prilično virtuozno, ali su stilski spram toga jako površni. Prije ovog izdanja ostvarili su 3 EP-ija i čak 6 singlova koje su 2012. objedinili na EP-iju "Busted", no niti jedan od njih se ne nalazi ovdje.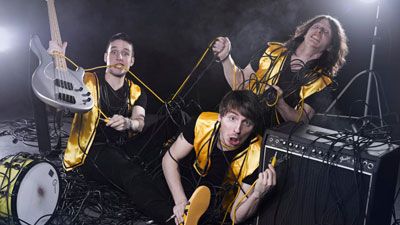 Deep Kick
Kao prvo, materijal ovog albuma je predugačak: 14 pjesama, oko 60-tak minuta i mnoštvo varijacija funk-rocka kakvog se odavno čulo još od prvih albuma RHCP, Nomeansno, Living Colours, Primus sve do Infectious Grooves i nekih mekših fragmenata Faith No More i RATM. Zanimljivo je da glavni vokalist Fantin Moreno sjedi za bubnjevima, dok je isturena sekcija David Caraccio (bas) i Filo (gitara) tek ponekad u svojstvu pratećih glasova. U globalu gledajući, to daje zatomljeno percipiranje, no sjetimo li se primjerice The Eagels, znala je biti ponekad vrlo uspješna, ali istovremeno i vizualno neučinkovita i neatraktivna kombinacija. Najači adut benda je gitarist Filo koji u nekim pjesmama zna odvaliti složene solaže i improvizacije, te pjevni visoki vokal Morena, a daleko slabija strana su pjesme.
Album počinje dosta silovito kroz "Financial love", prvi zvanični video "The way she moves" i pjesmu "Mr.Hyde's bright side" gdje ne manjka niti stiska na distorziju gitare dovodeći slušatelja do mogućeg saznanja da su ovo hard-rock/funk orijentirani momci. Kasniji rasplet događaja pokazuje njihovu mekšu stranu 'gain gitare i lakših ritmova tek tu i tamo isporučivši čvršću pjesmu poput "Superman". U onim ležernijim skladbama vidi se komercijalna prostudiranost RHCP karijere, one daleko uspješnije od cirka perioda albuma "Californication" naovamo poput pjesama "Merry-go-round", atmosferične laganice "Nice to meet you" i "Set you free" s psycho elementima do svakako jedne od najupečatljivijih (i najplesnijih) "Stereo". Možda je baš ta trebala biti izabrana za promotivni video. Daleko bolje bi upalila s rap vokaliziranjima i insinuacijama na crnački leksik kakav danas u rocku gotovo više i ne postoji. Basovi su promijenjivi; neke sekvence je Carracio odsvirao mekano, a neke poput "The guilt" ili "Blood is blue" izrazito funkerski naglašeno nalik na Dave Allena (ex-Gang Of Four, ex-Shriekback), međutim i to je odavno stara škola koja danas više nema mnogo efekta osim retrogradnog prizivanja dosta daleke prošlosti.
Teme su sporadične zafrkancije i poneke emotivne frustracije ("To the ones who wait", završna laganica "Rain in my eyes") s ponešto mamurluka ("Hangover"), ali nema borbenosti, niti vidljive želje za angažiranim stavom premda su na ranijim singlovima znali zapržiti konzekventnijom potkom kao u pjesmi "Power of money" i donekle u "Purple monster". Samo se žele što bolje zabaviti bez ikavog opozicijskog stava i teških društveno-političkih ili socijalnih misli. Zabavni su i otkačeni bez jačih ekscentričnih poriva, jako dobro sviraju, produkcijski vrlo uredni, ali istovremeno i vrlo bezbijedni, gotovo bezalkoholni i bezopasni po kardiogram.
Naslovi: 1.Financial love, 2.The way she moves, 3.Mr.Hyde's bright side, 4.Set you free, 5.Back and forth, 6.Hangover, 7.Superman, 8.Merry-go-round, 9.Stereo, 10.Nice to meet you, 11.The guilt, 12.Blood is blue, 13.The ones who wait, 14.Rain in my eyes
ocjena albuma [1-10]: 6

horvi // 25/11/2014