Nakon već podosta vremena od skoro 3 pune godine, javila nam se ekipa iz NeverTrustAnAsshole, belgijsko-francuske punk-rock d.i.y. etikete što radi iz Bruxellesa i francuskog Tarbesa s kompilacijom mahom novih bendova od kojih su meni osobno jedino poznati francuski THIS LIFE i danski KOLLAPSE koji završavaju kompilaciju mračnom temom "
Liberate
" u kojoj punk pletu sa svojim odranije znanim doom/stoner/black elementima.

Do sada smo na ovim stranicama terapije imali prilike uz njih upoznati s ove etikete francuske Nowadayz, Jellywatch i Not My Hero, a možda i još poneki bend, no kako sam spomenuo, ovdje mi se čini da nisam upoznat s ovom kolekcijom od 12 bendova od čega spomenuti This Life imaju dvije, standardno žestoke kompozicije "
New anthem
" i "
Are we ready
" u hc gabaritima, kao i TOPSY TURVY'S - "
It's all right, take it all
" i "
No more guilty
", te JOHK - "
Prosélytisme
" i "
En retard sur mon temps
", jedni od rijetkih što imaju tekstove na francuskom uz vrlo prljave, gotovo black metal LES 2 MINUTES DE LA HAINE - "
En rose (l'éléphant blanc)
" i BLACK PIGEON - "
À la lueur d'une étincelle
". Johk bi se sasvim mogli usporediti s prvim radovima koprivničkih Don't iz ranih 90-ih samo sa sitnim otklonom jerbo im je ženski vokal u funkciji pratećeg.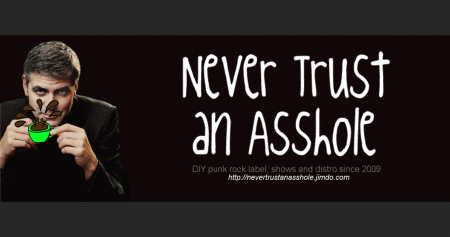 Nekako najbolje i najdorađenije instrumentalističke argumente pružaju TWO MINUTES FOR s dinamičkom "
What's to be done
", čvrsti umjereniji OpeNIGHTMARE s "
Queen of the red fang
" koja daleko više pokazuje reference hard-rocka, stonera i post-grungea, a nije za odbaciti niti fino uklopljeni zborski himnični komad "
Last evening in the ill house
" GHOST ON TAPE. Neki bendovi će podsjetiti na rani punk '77 poput slatkastih I WAS A TEENAGE ALIEN - "
Ouija of fear
" u kombinaciji Buzzcocksa i The Clash, ali u globalu gledajući, sve ovo jeste punk od pjesme do pjesme s nekim ne osobito velikim iskoracima u neke drugačije stilove čvrsto se držeći klasične etike kratkih, jezgrovitih i energičnih komada s evidentnom porukom na samom uvodniku MIGHTY MIDGETS koji kažu 'nisi sam, svijet je pun dupeglavaca'.
Jedina je šteta što izdavač nije kompilaciju potkrijepio s nekom press-info brošurom da se barem sazna odakle točno dolaze bendovi, a ako koga zanima, valja se potruditi i tražiti ih po internetu.
Naslovi: 1.MIGHTY MIDGETS - You're not alone (the world is full of assholes), 2.TOPSY TURVY'S - It's all right, take it all, 3.THIS LIFE - New anthem, 4.LES 2 MINUTES DE LA HAINE - En rose (l'éléphant blanc), 5.JOHK - Prosélytisme, 6.TWO MINUTES FOR - What's to be done, 7.BLACK PIGEON - À la lueur d'une étincelle, 8.OpeNIGHTMARE - Queen of the red fang, 9.THIS LIFE - Are we ready, 10.GHOST ON TAPE - Last evening in the ill house, 11.I WAS A TEENAGE ALIEN - Ouija of fear, 12.JOHK - En retard sur mon temps, 13.TOPSY TURVY'S - No more guilty, 14.BIAS - Nighthawks, 15.KOLLAPSE - Liberate
ocjena albuma [1-10]: 7

horvi // 15/07/2016