Francuski četverac iz Strasbourga ne mari mnogo za promociju premda je ovaj album objavljen i distribuiran preko čak 8 etiketa koje iz jednostavnog razloga nisu utrpane u popis na gornjem naslovu ove recenzije. Uz Itawak i Dingleberry Records and Distribution, to su Dead Punx Records, Dead Stallion & The Battalion Million, Maniyax Records, Rad Nauseam Records, Skatepizza i WOOAAARGH. To što ne mare očitava se na njihovim službenim stranicama, točnije facebook i bandcampu gdje nećete pronaći adekvatne podatke o njihovoj nekoj biografiji, imenima članova i popisu dosadašnjih izdanja. Uspio sam pronaći neke podatke da se potpisuju kao braća Dalton: Averell, William, Jack i Joe, no sigurno jest da im to nisu prava imena, dok se u šturom press materijalu spominje samo jedno izdanje "When Deep Water..." iz 2015. koje je ustvari prvi dio ovog albuma kojeg sam dobio na recenziju.
Taj prvi dio traje nešto više od 20 minuta i bio mi je vrlo čudan, ne toliko po glazbenom izrazu koliko po nedorečenosti. Zadnja od četiri priložene kompozicije "
40 days
" od čak 9 čudnovatih eksperimentalnih i psihodeličnih minuta poput kolaža dekompozicijskih strategija Sonic Youth naprasno je odrezana u grubim krešendima kao de se netko loše našalio s bendom ne dozvolivši mu taj završni udarac, da ton odigra do kraja. Međutim, kad je objavljen i ovaj drugi dio, stvar je potpuno jasnija: te prve četiri pjesme su samo bila uvertira iliti najava, a u originalnom obliku se nalaze i ovdje, a onaj odrezani krešendo se nastavlja u "
Now you can feed the monster, pt.1
" nakon čega je nanizano još 6 pjesama.
Sam stil benda je vrlo kaotična smjesa punka, hardcorea, noisea i mathcorea s elementima black metala i mnogim eksperimentalnim, te psihodeličnim sekvencama, a pjesme se doslovce pretapaju jedna u drugu zaokruživši globalno neobičan zvučni koncept za kojeg postoji samo jedno pojašnjenje - ekscentričnost. Kako u postavi imaju gitaru, bas, bubnjeve i vriskavog frontmena u slinavo-drečećem crustu (a i sitnu studijsku pratnju klavijatura), dozvolili su si mnogo kreativne slobode ne zadržavajući se samo na urnebesnim tempovima koji izbijaju iz intervala uvodne "
Six feet under water
", te "
Now you can feed the monster, pt.2
" i kratkim komadima "
Children of the sun
", te donekle "
In the violence of the ashes
". Gotovo sve kompozicije su im sastavljene od različitih intervala gdje uz hardcore ima mnogo laganih dionica, staccata, noiserskih disonanti bez pratnje bubnjeva, obilatog reverba, čak i pozadinskih šumova tvoreći kompleksnu građu, a predposljenja "
Necessary
" je iznenađujuće izvedena u senzibilnom 'clean' vokalu pitajući se u jednom stihu 'is this what you want?'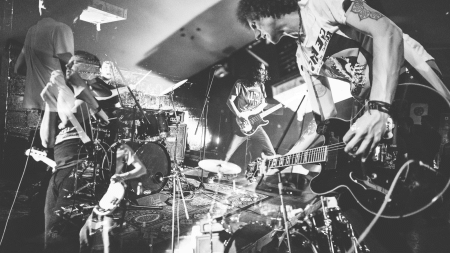 Dobro pitanje za auditorij jer je prikazani materijal znatno odskočio po tim neprekidnim up & down izmjenama s kojima nemilice izbacuju iz takta. Čas rade živi, gotovo abrazivni pakao, a čas se zapute u mračnu psihodeliju kao da su dio nekog space/post/black žanra, no ama baš ništa određeno ne zastupaju do li vrlo spetljanih kombinacija koje su uspješno i sa smislom satkane u 42 minuta ovog neobičnog albuma. A kao samo paralela, ponešto od ovoga može zaintrigirati publiku The Rodeo Idiot Engine, Birds In Row, The Prestige, te zvijezda na odlasku The Dillinger Escape Plan. Intrigantno...
Naslovi: 1.Six feet under water, 2.The way of light, 3.Ascension, 4.40 days, 5.Now you can feed the monster, pt.1, 6.Now you can feed the monster, pt.2, 7.Children of the sun, 8.In the violence of the ashes, 9.War drums, 10.Necessary, 11.Genesis1:6
ocjena albuma [1-10]: 8

horvi // 19/03/2017