Jedan od norveških vizionara iz benda The 3rd And The Mortal, kompozitor i gitarist
Trond Engum
iz Trondheima na svome solo projektu The Soundbyte kojeg vodi još od 1998. sa ovim četvrtim albumom odlazi dublje u istraživanje voda post-metala baratajući eksperimentima i avangardnim potezima u globalnim okvirima dark-folka.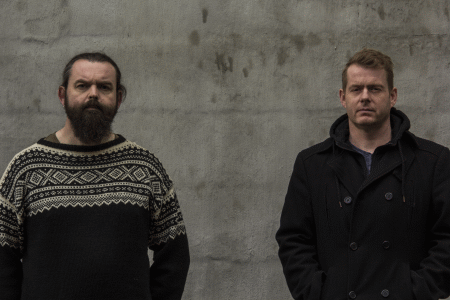 The Soundbyte - Trond Engum & Rune Hoemsnes
Malo čudno zvuči cijela ova kombinacija, no ipak se radi o podosta slikovitoj stilizaciji žanra na relevantnim pragovima švedskih Cult Of Luna. Uz Tronda u ovaj projekt je uključen njegov kolega bubnjar
Rune Hoemsenes
(također iz The 3rd And The Mortal), te gostujuća vokalistica
Kristi Huke
koja barata uglavnom 'nijemim' vokalima gotovo u svojstvu vrlo lijepog mezzosopran semantičkog dodatka (raniji vokalist bio je Berit Stensland). Istina, ima ovdje lirike u nježnoj ambijentalki "
Floating
", no većina materijala se svodi upravo na fiktivna vokalna rješenja čime doprinosi zvučnim vizurama popraćenim mnogobrojnim instrumentarijem. Trond barata sa svim pripadajućim glazbalima od gitare, basova, klavijatura, sintetičkih, analognih i inih priručnih sredstava ne štedeći niti kojekakva zveketanja raznoraznim predmetima, mikrofonijom, škripovima i slično, a vrlo su dobro kanalizirani u eksperimentalnom komadu "
Estranged
".
Ipak, osnova njegovih kompozicija su relativno čvrsti gitarski riffovi što balansiraju na relacijama niskog štima black metala, doom i disonantnih reverb medikamenata komunicirajući s depresivnim stanjima što su u nekim kompozicijama dovitljivo isprepleteni norveškim folkom, elektroakustikom i ambijentalnim mrakovima poput komada "
Descending
" i naslovnom "
Solitary
" (za obje su napravljeni video spotovi). Stilski se bazira na ritmičkim gradacijama i dubokoj hipnotičkoj seansi u kojoj ne manjka niti psihodeličnih legura, odnosno, pazi se na detalje koji se tromo gibaju bez veće akceleracije rezultirajući kompleksnim transžanrovskim parametrima od takoreći Pink Floyd do Neurosis. Još najbolji dio ove glazbe jest ta teška atmosfera koja je u metalu vrlo upitan element što zna besciljno odlutati u nepotrebni egzibicionizam, no Trond je toga itekako svijesan nastojeći poboljšati koreografiju uznemirujućeg raspoloženja u širokom prostoru ambijentalnosti metala.
Naslovi: 1.Fanfare, 2.Descending, 3.North, 4.Lamentations, 5.Floating, 6.Estranged, 7.Solitary
ocjena albuma [1-10]: 7

horvi // 30/07/2017