Zasnovana na fabuli Hans Christian Andersenove "Snježnje kraljice", ova 100-minutna orkestralna baletna adaptacija pomno prati avanture dvoje djece koja se spašavaju od sila zla. Kroz priču, dvoje prijatelja od ranog djetinjstva, djevojčica Gerda i dječak Kay se odvajaju kada Kaya prevari đavolje ogledalo u krhotinama zaleđenih razbijenih stakalca. Kay se nađe u ledenoj palači Snježne kraljice, a uz pomoć raznih drugih likova Gerda ga spašava od vječitog zatočeništva.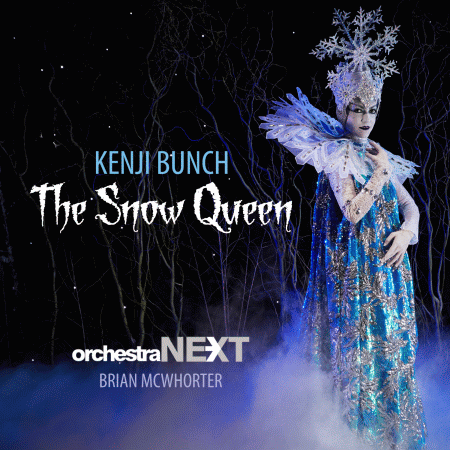 Za ovaj poduhvat oregonski Orchestra Next u kolaboraciji s Eugene Ballet angažirao je jednog od najzanimljivijih, najutjecajnihih i najplodnijih američkih skladatelja svoje generacije - violinistu
Kenji Buncha
koji je kroz 20-togodišnju karijeru surađivao s mnogim velebnim imenima. Na ovim stranicama bio je prisutan u radovima
Ethel
http://terapija.net/mjuzik.asp?ID=14295
i
Cornelius Duffalo
, no najznačajniji su mu projekti osnivanje kvarteta Flux (1996-2002) i Ne(x)tworks (2003), te suradnja s Britt Festivalom, The Lark Quartet i Music at Angel Fire Festivalom. Sam je povodom ovog poziva komentirao da mu je ova neobično lijepa priča u kojoj je glavni junak žena-heroina najveći i najintrigantniji zadatak u karijeri jer je istovremeno trebao paziti da se tok radnje i glazbe prilagodi i djeci, a i odraslima.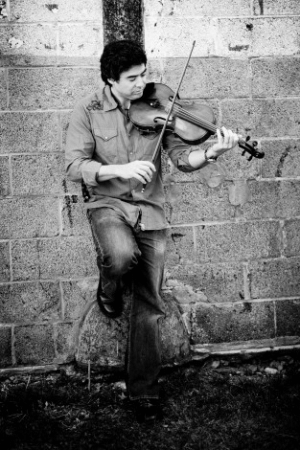 Glazbu je koncipirao kroz dva velika čina s relativno ne predugačkim stavcima koji su uklopljeni prvenstveno kao plesna baletna predstava suptilno složenim orkestracijama na temu hladnoće i topline referirajući se na provjerenu rusku avangardu (Čajkovski ili Stravinski primjerice), te na francuski modernizam i neoklasicizam (Ravel) kako bi postigao dojam bajkovite učinkovitosti i nepredvidljive originalnosti s obzirom da je tema itekako poznata svima. Bunch uspjeva u svemu tome ostvarivši i djelićak avangarde u ovim post-avangardnim vremenima kada se manje-više glazba svodi na 'neo' i 'retro' prefikse: pronalazi idealno odmjeren zvučno-stilski sklop hladnoće i praktički kliničko-ledene granice smrzavanja nizajući prizore koje nimalo nije teško zamisliti jer je za sada mala vjerojatnost da ćemo izvedbu baleta doživjeti u skoro vrijeme na našim područjima. Njegovi glazbeni opisi srca koje se smrzava, ples cvijeća, odnosi Gerde i Kaya, pojava opsjednute žene, pljačkaša, dolazak vrane, ulazak u ledenu palaču i herojsko odmrzavanje Kayovog srca protkani su mnogim kompozitorskim bravurama vrlo širokog orkestra od 30-tak glazbenika i scenskih pomagača.
Pa premda nismo u toj pogodnosti da balet vidimo uprizoren, evidento jest da bitni vizualni elementi nisu izostali zahvaljujući ovome katarzičnom ostvarenju: sve je pogođeno u tančine što se tiče glazbene konstrukcije koja uključuje čak i prikaz mišićavog ciganskog plesa u taboru i opise mirisa cvjetova u vrtu opsjednute žene. Mogu se osjetiti te brojne nijasne raznolikih spektrova pokreta, osjetila i atmosfere djelomice i zbog toga što Bunch nije išao u mistifikaciju i sofisticiranost naslova pojedinačnih komada već je sve to servirao na iznimno jednostavnoj razini upravo prihvatljivoj da je shvate i djeca. A vjerojatnost ako će se i doživjeti balet, daleko od toga da će ova audio-vizualna predstava biti hladna kao led. Nipošto.
Naslovi CD1 (Act 1): 1.Prologue, 2.The Snow Queen's palace, 3.The Snow Queen's dance, 4.The mirror, 5.Kay and Gerda, 6.Arrival of the Snow Queen, 7.Kay's heart turns to ice, 8.Gerda mourns, 9.The conjure woman, 10.Dance of the flowers, 11.The Rose Briar returns to life
CD2 (Act 2): 1.The fields, 2.Arrival of the crowns, 3.Gerda awakes, 4.The prince's palace, 5.The palace bedroom, 6.Gerda files with the crowns, 7.Gypsy camp, 8.The roobber girl, 9.Return to the Snow Queen's palace, 10.Song of the Ice Captives, 11.Gerda finds Kay, 12.Gerda thaws Kay heart
ocjena albuma [1-10]: 9

horvi // 14/09/2017